The data repeatedly confirms a startling reality: COVID-19 hits communities of color especially hard.
One recent Health Affairs study revealed that African American COVID-19 patients are 2.7 times more likely to be hospitalized than their Non-Hispanic White counterparts. African American patients also tend to arrive at healthcare facilities sicker and with more severe symptoms. Couple this with housing stock and housing density disparities that put Black lives at greater risk for contracting respiratory diseases and spreading the virus across several generations living under one roof — and the dangers skyrocket.
Medical research is most valuable when it translates into action and improves health outcomes. In parts of East Oakland, that change is coming.
"We believe that grassroots work is the best, and perhaps the only, way to reduce COVID-19 cases and deaths, and to improve health outcomes for African Americans and the broader Oakland community – both before and after a vaccine comes online," said Noha Aboelata, M.D., CEO at Roots Community Health Center.
Roots is using the stark lessons of COVID-19, taking information from the Health Affairs study as the guide. With Sutter Health's assistance, Roots is increasing COVID-19 testing, expanding outreach and enhancing public health education in the largely African American community. These efforts both use and generate important health data to identify and then address COVID case spikes, drilling down to individual ZIP codes.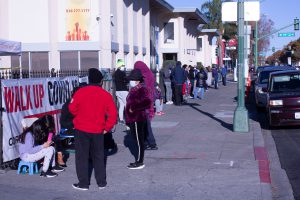 In addition to providing free walk-up COVID testing, Roots is undertaking a multifaceted outreach campaign. It will feature digital and traditional paid media, as well as messages designed by local artists working with Hamilton Broadway Signs, a workforce social enterprise run by Roots that trains East Oakland residents and places them in living-wage jobs. Various local business, religious, neighborhood and political leaders who frequently collaborate with Roots will also deliver treatment and prevention information.
"The COVID-19 pandemic has ripped a Band-Aid off of the structural inequities that surround us. As we've seen across the country, failure to address these disparities is measured in human lives lost, by the tens of thousands," said Stephen Lockhart, M.D., Ph.D., one of the study authors and chief medical officer at Sutter Health. "With the stakes so high, larger systems like Sutter Health can and must do better to help connect minority patients to culturally competent care. Roots' work is one part of the solution."
Partnering with minority-led community health care providers in underserved communities is just one of the ways Sutter seeks to make real change via its Institute for Advancing Health Equity.
"Community health centers and regional health systems teaming up can have a lasting impact," said Dr. Aboelata. "Roots brings our culturally responsive methods and deep connections to marginalized communities. Meanwhile, regional health systems like Sutter Health offer additional staffing, marketing and outreach support, and other resources. Together, we can forge bigger and better community health."