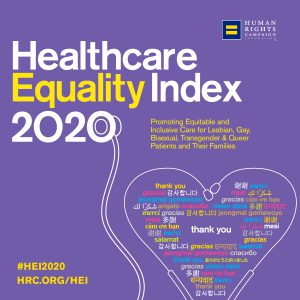 SACRAMENTO, Calif.— Twenty-one affiliates within Sutter Health's integrated, not-for-profit network earned recognition as an "LGBTQ Health Care Equality Leader" by the Human Rights Campaign Foundation (HRC), the educational arm of the country's largest lesbian, gay, bisexual, transgender and queer (LGBTQ) civil rights organization. The designation was awarded in the 13th edition of HRC's Healthcare Equality Index (HEI).
The HEI recognizes facilities that meet key criteria, including foundational elements of LGBTQ patient-centered care, LGBTQ patient services and support, employee benefits and policies, and LGBTQ patient and community engagement.
"We are dedicated to providing compassionate, high-quality care that is free from discrimination and affirming of gender identity and sexual orientation. We are equally committed to sustaining a supportive work environment where our employees and clinicians can reach their full potential," said Jill Ragsdale, Sutter Health senior vice president and chief people & culture officer. "This honor is meaningful for our teams because it shows how we are living our values each day. We are proud to care for patients in one of the most diverse regions in the U.S. It is our mission to respect and serve all."
The 21 Sutter Health affiliates earning a spot on the 2020 HEI Index include:
The 21 Sutter Health network affiliates recognized join a select group of healthcare facilities nationwide named as Leaders in LGBTQ Healthcare Equality. A record 765 healthcare facilities actively participated in the HEI 2020 survey. In addition, the HRC Foundation proactively researched key policies at more than 1,000 non-participating hospitals.
"From the previously unimaginable impact of the COVID-19 pandemic to the horrific incidents of racial violence targeting the Black community, the events of the past year have brought about so much pain and uncertainty. Yet, even during this moment of profound unrest, we are seeing more of our humanity and resilience come to life. For me, nowhere is that more true than through the tireless dedication of our health care providers and the intrepid support and administrative staff members by their sides that show up every day to ensure this life-saving work continues," said HRC President Alphonso David. "The health care facilities participating in the HRC Foundation's Healthcare Equality Index (HEI) are not only on the front lines of the COVID-19 pandemic, they are also making it clear from their participation in the HEI that they stand on the side of fairness and are committed to providing inclusive care to their LGBTQ patients. In addition, many have made strong statements on racial justice and equity and are engaging in efforts to address racial inequities in their institutions and their communities. We commend all of the HEI participants for their commitment to providing inclusive care for all."
For more information about the HEI, or to download a free copy of the report, visit www.hrc.org/hei.