The newly completed Sutter Health Ambulatory Care Center and Surgery Center marks the latest milestone in Sutter Health's long-term plans to create greater patient access to more convenient and connected care across the Silicon Valley. And it is part of Sutter's broader plan to build more than two dozen ambulatory care centers across Norther California over the next four years.
Located at 2506 Samaritan Court, San Jose, near the Los Gatos city border, the 69,000-square-foot building brings together 34 physicians from 12 different medical specialties across Sutter's Palo Alto Medical Foundation (PAMF), along with lab, imaging and an ambulatory surgery center all under one roof.
"This new care center is part of executing on our plan to innovate and expand access to coordinated, high-quality care across Northern California and make it more convenient for patients while providing a great environment for our care teams. We expect to open or expand nine more care centers in the greater Silicon Valley over the next few years, and this new ambulatory care center is another step in our ability to care for more patients," said Warner L. Thomas, Sutter Health president and CEO.
The new ambulatory care center will officially open on July 24 and the surgery center will open Aug. 1.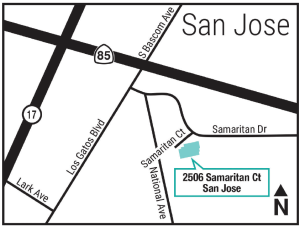 Location, location, location. The new care center and surgery center are located in the heart of a vibrant, transportation-friendly, healthcare neighborhood. Doctors from the Palo Alto Foundation Medical Group (PAFMG) will provide physician services to patients at the center. "The new ambulatory care and surgery center will enhance the ability of our medical group physicians to deliver the highest quality of care and the latest medical innovations to the surrounding community," says PAFMG CEO Dr. Kurt VandeVort.
Sutter Health and PAMF operate more than 25 care centers in Santa Clara County and have helped make the community healthier and more livable since 1930.
A shared vision.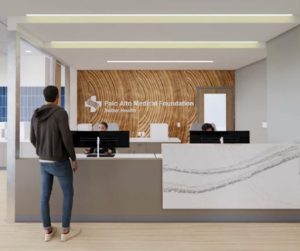 Among the 34 physicians who will have offices in the new building, more than half joined the PAFMG in the past decade. "As a longstanding not-for-profit healthcare institution in Silicon Valley, PAMF and Sutter have an excellent reputation among patients and clinicians," said Dr. Alan Sue, South Bay geographic medical director, Sutter Bay Medical Foundation (SBMF). "We have been fortunate to recruit independent physicians who see how an integrated system like Sutter supports them while they care for patients."
Read how centralizing physicians in one building makes care better for patients and more efficient for physicians.
The new care center, completed in part through the generosity of community donors, fulfills the promise of a contemporary, centralized space where physicians from different medical disciplines can come under one banner and collaborate. Less noticeable, but equally important, the Sutter system connects providers and patients through a shared electronic medical record, online portal, scheduling system and more – each intentionally seamless so the patient stays front and center.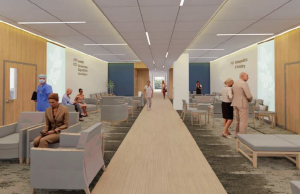 Centered on patient and physician satisfaction. The Sutter Health Ambulatory Care Center was designed from the ground up to support physicians and care teams so they are in the best position to provide an outstanding patient experience.
"Reimagined waiting spaces are one example of the emphasis placed on convenience at this care center," Dr. Elizabeth Vilardo, CEO, SBMF. "Each centralized waiting space is shared by several specialty departments, which improves flow and provides easy access to exam rooms." Instead of multiple reception desks, the second and third floors each have one, facilitating rapid check-in. Customer service touches like this are part of how Sutter meets modern consumer expectations for seamless healthcare.
Infused with innovation. High-tech healthcare takes on new meaning in the new building, where virtual reality headsets will be used to relieve anxiety in children prior to surgery. "This goes so far beyond distraction," said Dr. Paul Elcavage, pediatric anesthesiologist and medical director of the new surgery center.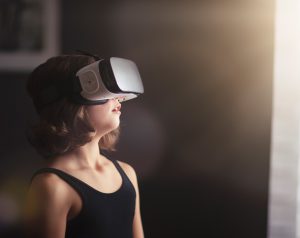 "The computer-generated environment is designed to engage all of your senses in an immersive, calming experience."
Watch ABC-7's coverage: Here's how virtual reality headsets are calming kids before surgery in South Bay.
Part of a pilot project, the idea to bring the headsets to this surgery center, located in the heart of Silicon Valley, was intentional. As an integrated system, Sutter Health looks for opportunities to implement and study leading-edge care options that have the potential to benefit patients, providers and the community. This is one to watch.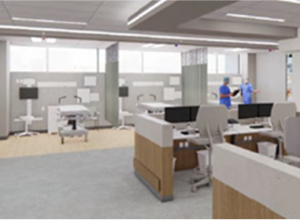 Committed to the community. The new surgery center is also the latest Sutter location in the Bay Area to pledge its services – at no cost – to underresourced patients as part of the "Gift of Surgery" program, administered by local nonprofit Operation Access.
"Sutter Health has not only given more than $2.4 million to our organization through community benefit investments," said Jason Beers, executive director of Operation Access. "Sutter sites have also provided in-kind donations totaling more than $70 million while supporting 7,700 surgical procedures and diagnostic services over the past 25 years."
In addition to the "Gift of Surgery," Sutter Health and physician volunteers provide no-cost colonoscopies for patients who would not otherwise have access to this important test. These are just some of the many ways Sutter supports improved community health.
Co-located specialists and services include: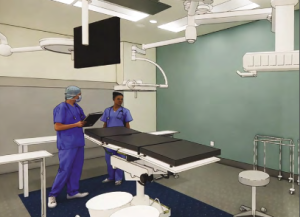 Ambulatory Surgery Center (ASC), located on the first floor and spread across 23,000 square feet, the ASC features three operating rooms and two procedure rooms. Fourteen spacious recovery areas offer patients privacy and tranquility after surgery. This center will accommodate surgical and endoscopy services, including orthopedic, general and gynecologic surgery, pediatric surgery, and ear, nose and throat surgery. A new central sterile processing area, which cleans, sterilizes and prepares medical instruments, supports the surgery center.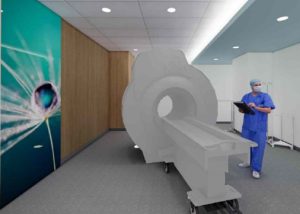 State-of-the-art magnetic resonance imaging (MRI) machine, featuring the highest power "3 Tesla" technology, is also located on the first floor. This machine enables exceptional-resolution images for more accurate diagnosis and treatment of cancer, joint injuries, spinal and musculoskeletal problems and a host of other medical needs.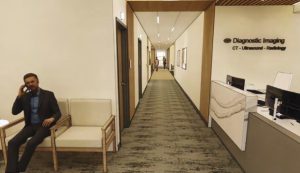 Full-service laboratory and additional imaging equipment is located on the second floor. Here patients can have blood work and other diagnostic tests performed and receive imaging scans using different techniques including computerized tomography (CT), ultrasound and radiology. Having these services in the care center eliminates the need for patients to travel elsewhere for tests. This floor also includes offices and exam space for eight medical specialties: neurology, neurosurgery, orthopedics, podiatry, urology, gynecologic oncology, urologic oncology, and physical medicine and rehabilitation.
Medical and surgical specialists round out the third floor. Physicians and advance practice clinicians and staff on this floor support the departments of obstetrics and gynecology, pulmonary medicine, gastroenterology and general surgery.
Early and under budget despite COVID disruptions
The new center was delivered 79 days ahead of schedule at a cost savings of nearly $3 million, despite COVID-19 disruptions. This achievement is owed, in part, to integrated project delivery, sometimes referred to as lean construction. The IPD approach helped teams complete more activities in the pre-construction phase, eliminate waste and adapt in the face of stay-at-home orders and supply chain interruptions.
The primary project team included Sutter Health Facilities and Property Services, Boulder Associates (architect) and Skanska USA Building Inc. (contractor).
Additional information about the services offered can be found at https://www.sutterhealth.org/