Sarah Heyl has been walking a proverbial tightrope since the COVID-19 pandemic began.
Heyl was three months pregnant with her first child when the new coronavirus was first making headlines. She spent her second and third trimester in a tight bubble to avoid catching COVID. Her precautions worked, and she and husband Matt were blessed with a healthy baby boy on June 7, 2020.
The Heyls loved being parents so much they decided to expand their family. They learned they were pregnant with their second child in January 2021, just as the first COVID-19 vaccines were starting to be made available to the public.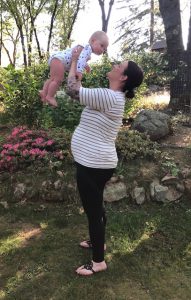 "I thought about getting a COVID-19 vaccine, but they were so new and there wasn't a lot of information about the safety of the vaccine in pregnant people," recalls Heyl. "At the time introducing anything new just felt riskier than relying on the strategies that had kept us COVID-free for the past year." Risk to early pregnancy was something she was particularly attuned to because she'd suffered two early miscarriages before her son was born.
As her baby grew from the size of an olive to a tomato, Heyl says she continued to consider getting the vaccine. Her husband got vaccinated, as did most of her family members when their turn came up. But the couple had recently moved from Los Gatos (in Santa Clara County) to Meadow Vista (in Placer County). Heyl felt her risk of exposure was almost non-existent. "I didn't go to stores; I didn't see people . . . at that point the only thing holding me back (from getting the vaccine) was that my exposure risk was so low."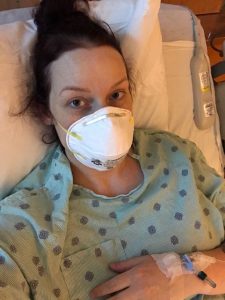 Then, at 30 weeks pregnant, Heyl contracted COVID-19. Her husband got the virus too, a breakthrough case, and their symptoms were similar and manageable at first. "It hit this point though, at day 10 or 12, when Matt started to get better and I started to get worse, much worse," she says.
So out of breath she couldn't walk or talk, Heyl was taken to the Sutter Roseville Medical Center where she learned her blood oxygen level was dangerously low. "They gave me 7 liters of oxygen, but my O2 level still didn't go up," she remembers. "I had severe pneumonia, but they couldn't prone me because I was pregnant, and they couldn't give me the medications they normally would have either." At this point Heyl was 32 weeks pregnant. Her doctors advised that the best thing to do would be to deliver her baby by C-section.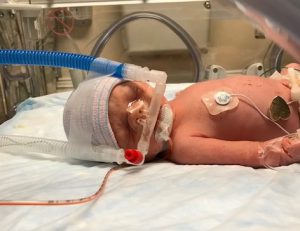 Naomi was born on Aug. 13, 2021, weighing 4.1 pounds, and was immediately taken to the neonatal intensive care unit. Ten days would go by before Heyl would see her newborn daughter again. In total, baby Naomi would spend more than five weeks in the NICU.
"I was pumped full of Remdesivir and steroids, and slowly started to get better," says Heyl, who was sick for 22 days.
"I will honestly never take a deep breath for granted again."  ~ Sarah Heyl
Heyl says she wants her harrowing experience to be a lesson to others. "If I had known how this would impact me and my family, I would have been the first in line to get a COVID vaccine," she says. "I want people to know that COVID can be devastating—for a pregnant woman and her baby—the risk is very real."
Related: Pregnant People Urged to Get Both Flu and COVID-19 Vaccines
Impacts of COVID-19 During Pregnancy
Heyl's story reinforces recommendations by the CDC, the American College of Obstetricians and Gynecologists and the Society for Maternal-Fetal Medicine, which urge people who are pregnant or planning to become pregnant to get the COVID-19 vaccine:
Vaccination is safe before, during, or after pregnancy. COVID-19 vaccines do not contain live coronavirus and cannot infect a pregnant person or unborn baby in the womb. It is recommended that pregnant people receive the COVID-19 vaccination as soon as possible to reduce the risk of a severe COVID infection during pregnancy. This means women can get the COVID-19 vaccine in the first, second or third trimesters. Results from published studies suggest that there is no increased risk of first trimester loss in patients who receive any of the three COVID-19 vaccines currently approved for emergency use authorization.
Pregnant people who have already been vaccinated are also encouraged to receive a COVID-19 vaccine booster shot. Those who have recently delivered, and were not vaccinated during pregnancy, are also strongly encouraged to get vaccinated as soon as possible.
Evidence about the safety and effectiveness of COVID-19 vaccination during pregnancy has grown. Pregnant people were not included in the initial clinical trials for COVID-19 vaccines, but now almost a full year of real-world data exists that does include this population. Tens of thousands of reporting individuals over the past 11 months have helped researchers amass evidence that the use of the COVID-19 vaccines during pregnancy is safe and effective.
Vaccination builds antibodies that might help protect the baby as well. Studies have shown that COVID-19 antibodies passed in-utero from parent to infant provide at least six months of partial protection against the virus. Recent reports have also shown that breastfeeding people who have received a COVID-19 vaccine have antibodies in their breastmilk, which could help protect their babies from infection. More data are needed to determine what level of protection these antibodies provide to the baby, but this reaffirms that women should not delay or discontinue breastfeeding after getting the vaccine.
There is currently no evidence that any vaccines, including COVID-19 vaccines, cause fertility problems in women or men.
COVID infection during pregnancy increases the risk of serious illness and complications. Pregnant and recently pregnant people with COVID-19 are at increased risk for severe illness when compared with non-pregnant people. Severe illness includes those that require hospitalization, intensive care unit care or equipment to aid in breathing. Additionally, people with COVID-19 infection during pregnancy are at increased risk of preterm birth and stillbirth and might be at increased risk of other pregnancy complications such as preeclampsia. In addition, although rare, pregnant people with COVID-19 can transmit infection to their newborns. Pregnant people can help protect themselves from developing severe illness by getting a COVID-19 vaccine.
Vaccination rates among pregnant people have been low throughout the pandemic. As of Oct. 30, 2021 fewer than 40% of pregnant people in the U.S. said they'd been fully vaccinated prior to or during pregnancy. The majority of pregnant people remain unprotected against COVID-19, and the CDC recently released data showing the highest number of COVID-19-related deaths in pregnant people in a single month occurred in August 2021.