The COVID-19 pandemic led many people to postpone routine visits to their primary care provider in 2020. The result: missed physicals and cancer screenings, less chronic disease monitoring and medication adjustment, and overdue preventative care, including vaccinations.
But there is good news.
People with commercial insurance or a Medicare Advantage plan have been able to catch up on most of their deferred care, even while the pandemic continued. Moreover, patients have benefited most from having a dedicated primary care clinician, who is part of a medical group, that is well-equipped and accustomed to tracking when various health screenings, exams, tests and medication assessments are due for each person under their care.
Helping patients stay on top of their medical "to do" list doesn't just help when appointments need to be rescheduled. Evidence suggests that care coordination, reminders and prompts by primary care teams can lead to better overall quality of care and improved patient experience.
That's why groups that promote high quality primary care, like the Integrated Healthcare Association and the California Office of Patient Advocate, have spent years measuring how well physician organizations help their patients follow-through on recommended care. The organizations also publish how well medical groups score on these measures, so that people can make more informed decisions when choosing a provider.
The kinds of measures tracked and reported include:
Screening for Cancer | Making sure patients receive their breast, cervical and colorectal cancer screenings on a regular basis
Diabetes Care | Helping patients with diabetes control their blood sugar and blood pressure, receive recommended eye exams and kidney function tests and take statins as needed.
Immunizing Children | Ensuring that young children (up to 2 years old) received vaccinations as recommended by the Centers for Disease Control and Prevention and the American Academy of Pediatrics.
Asthma Care | Helping make sure that patients with asthma had the right combination of medicines and know when and how to use them properly.
Managing Osteoporosis | Making sure that women, aged 67 to 85, who suffered a bone fracture had their calcium level tested or received a prescription to treat osteoporosis soon after fracture.
Recently IHA and OPA recognized medical groups that performed well on these types of measures in 2020. Several physician organizations aligned with Sutter Health's not-for-profit, integrated network were acknowledged.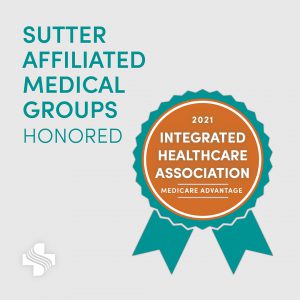 In the quality of care category, for Medicare Advantage patients, IHA recognized the Palo Alto Foundation Medical Group with 5 stars (the highest number possible). Three other physician organizations, Sutter East Bay Medical Group, Gould Medical Group, and the Mills-Peninsula Medical Group/Mill-Peninsula Division of PAMF, each earned 4.5 stars. Only 49 participating provider organizations in the state achieved 4.5 stars in quality for Medicare Advantage patients in the 2020 measurement year.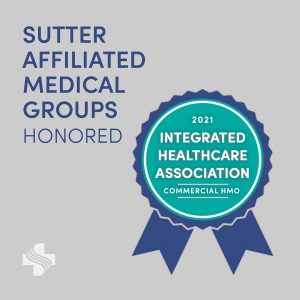 IHA also evaluated care delivered to Commercial HMO patients and recognized both Sutter Medical Group and the Palo Alto Foundation Medical Group for each being Top 10% performers in clinical quality and patient experience during the 2020 measurement year. Additionally, the Mills-Peninsula Medical Group/Mills-Peninsula Division of PAMF was recognized as a Top 10% performer in clinical quality, while Sutter East Bay Medical Group was recognized as a Top 10% performer in patient experience.
Finally, in the quality of care category, Mills-Peninsula Medical Group/Mills-Peninsula Division of PAMF earned the only 5 star score in OPA's report care for Commercial HMO members, in the state of California, for care delivered in 2020. Four additional Sutter-affiliated provider organizations earned 4 stars in clinical quality from OPA and six provider organizations earned 5 stars in patient experience – see below.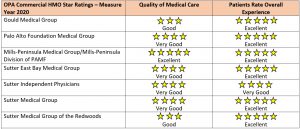 About IHA's AMP programs
IHA's Align. Measure. Perform. programs use a fair and transparent approach to measurement and benchmarking to create a reliable assessment of performance for medical groups, IPAs, and ACOs across health plans. The AMP programs are recognized nationally for partnering with organizations across California and the nation to drive meaningful changes that reduce costs and improve healthcare quality and outcomes. Paired with the insights from IHA's California Regional Health Care Cost & Quality Atlas, the AMP programs help partners reduce the reporting burden for payers and providers by using a standard measure set to deliver objective data and analysis that support performance improvement. For more information, visit IHA.org.