By Anita Creamer, Vitals contributor
Before their son's diagnosis, Anthony and Lisa Lopez didn't know much about autism. Then their son, Abraham, was diagnosed with a form of mild autism and general speech disorder.
"He still wasn't talking well past age 2, so we took him for diagnosis," says Anthony. "I asked whether he'd ever be able to hold a job and get married and have a life. The doctors were very reassuring."
Now Abraham is in first grade at a school that specializes in teaching children who have autism spectrum disorder.
"He's doing really well," Anthony says. In fact, Abraham is now more verbal and recently received a Student of the Month award, he says.
Autism spectrum disorder is a broad range of conditions characterized by challenges with social skills, repetitive behaviors, speech and nonverbal communication. It's now acknowledged to affect one in 44 children, says Dr. Michael Chez, a Sutter Institute for Medical Research pediatric neurologist.
"Awareness has increased that different types of autism exist." Dr. Chez says, "We've improved early intervention, but advocacy still falls short."
That's one reason why April has been designated as Autism Acceptance Month. It is a time to build better awareness of the realities of autism, celebrate differences and promote inclusion. It's also a time to emphasize the importance of education, information and lifelong resources.
A Few Facts About Autism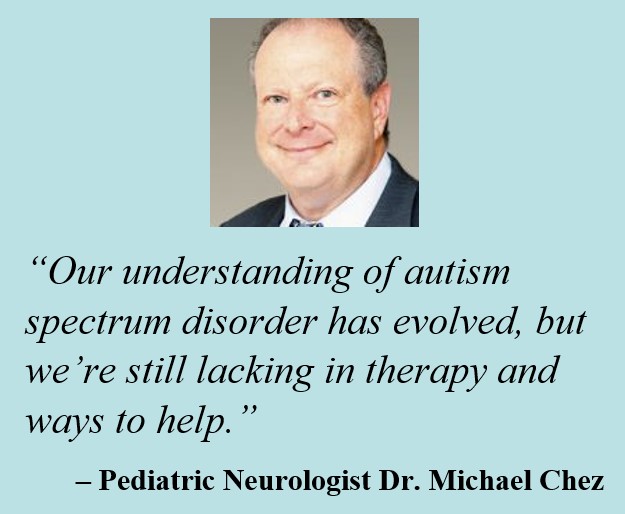 Dr. Chez says about 80% of autism cases have a biological component. Thousands of genes can contribute to causing autism — but genetics is not the only cause nor is the link always identifiable. Autism also can have associated medical conditions such as sleep disorders, gastrointestinal problems or epilepsy. About 40% of people with autism are nonverbal, and about one-third of children with autism spectrum disorder have an intellectual disability.
Early diagnosis and intervention can help. But autism continues into adulthood, with impairments in social function and speech continuing. People with autism process social interactions differently and can have difficultly engaging with others.
Despite that, some people with autism can live independently, attend college and excel at jobs matched to their abilities and talents.
"Our understanding of autism spectrum disorder has evolved," says Dr. Chez, "but we're still lacking in therapy and ways to help."
Support for Adults with Autism Spectrum Disorder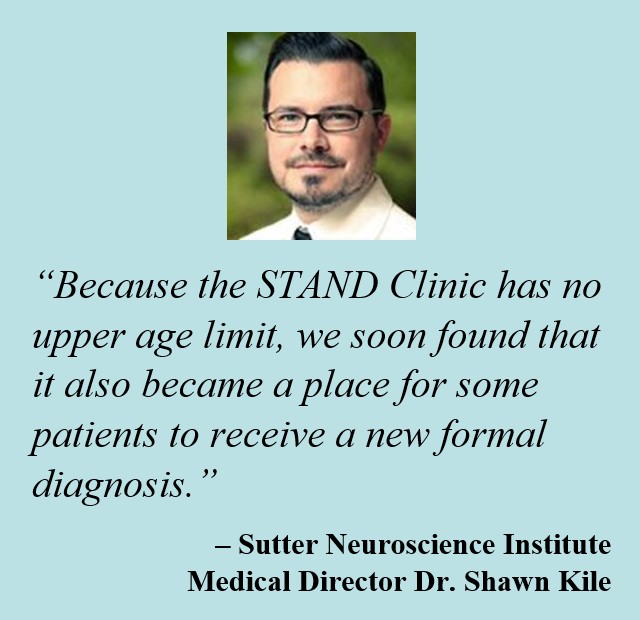 All too often, services can be hard to find for people over the age of 18, who've aged out of the supports that schools can provide and may not be followed by pediatricians and pediatric specialists. That was the impetus for the creation of the Sutter Transition for Autism and Neurodevelopmental Disorder (STAND) Clinic in Sacramento, which was founded with the idea of transitioning older teens with autism and similar disorders into adult neurology programs.
"Because the STAND Clinic has no upper age limit, we soon found that it also became a place for some patients to receive a new formal diagnosis," says Dr. Shawn Kile, the medical director of the Sutter Neuroscience Institute.
"I remember an 80-year-old mother bringing in her 60-year-old daughter, who had never been formally diagnosed with autism. The aging mother was worried about who would care for her daughter in the future. We were able to provide a proper diagnosis and assist with appropriate supportive care. You could see a weight lifted from the mother."
Acceptance and Inclusion
Throughout their lives, people with autism spectrum disorder can be misjudged as rude, socially awkward and uncooperative. That's one of the things that worries Anthony Lopez.
"When my son plays with other kids at the park, they don't understand why he doesn't act the way they do," says Anthony, who now is a supervisor for a neuroscience medical office in Modesto. "It's important for parents to explain to their kids that for some people, their brains work differently.
"He's doing well academically, and he'll eventually transfer to general education. I want him not to have to struggle. I want him to get through his challenges and not worry about any limitations. He's a good kid. His mother and I are very proud of him."
For more on services available for children with autism, go here. For more on those 18 and over who may be on the autism spectrum, click here.