Christopher Hall, M.D., knows well the uncertainty and fear sparked by an infectious disease outbreak, as well as the excitement spurred by new research to develop effective treatment and vaccines.

An infectious disease specialist and researcher at Sutter's Alta Bates Summit Medical Center (ABSMC) in Oakland, Dr. Hall began working to combat the HIV virus in 1987 in Washington, DC. Subsequent clinical leadership work at prominent HIV/AIDS care centers earned him the "street cred" to be selected for consulting roles for sexually transmitted infection (STI) prevention training programs, and membership among a national coalition of STI experts.

While the world awaits effective, safe treatments and a potential vaccine for COVID-19, HIV research has dramatically flashed forward since the AIDS epidemic of the 1980s. Among the biggest achievements in HIV prevention came in 2012, when the U.S. Food and Drug Administration (FDA) approved a daily pill called Truvada® as a means to prevent HIV virus infection—a strategy known as HIV pre-exposure prophylaxis (PrEP) for people who are HIV-negative.
Dr. Hall hopes his latest research initiative will have a similar significant impact. He leads Sutter's participation at ABSMC in a clinical trial testing a new long-acting, injectable drug for the prevention of HIV. Earlier this month, preliminary results of an international study of the antiviral cabotegravir as PrEP were released by the HIV Prevention Trials Network (HPTN).(1,2) The results haven't yet been published in a peer-reviewed journal.

The international, Phase 3 study known as HPTN 083 compares the effectiveness of bimonthly cabotegravir injections with oral Truvada® as PrEP to prevent HIV infection in people aged 18 years and older.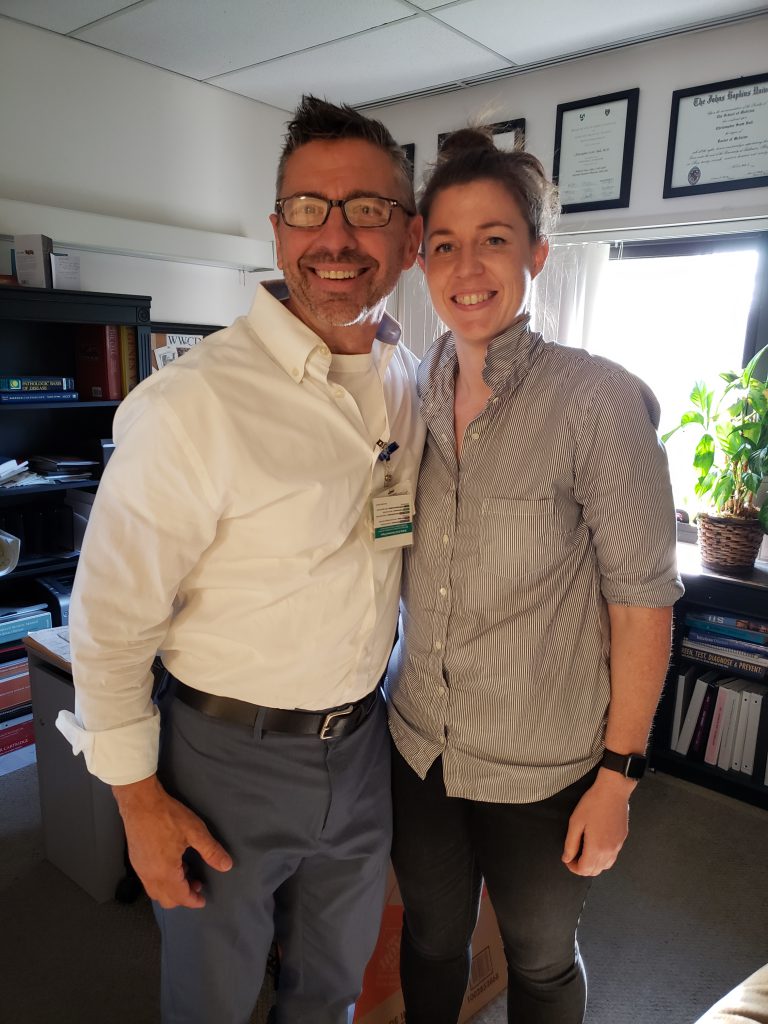 "This large-scale study is the first of its kind to show a long-acting form of HIV prevention to be highly effective," says Dr. Hall. "Without a vaccine, the more options for PrEP that we can prove are effective and safe, and make accessible to people who may benefit, the better. Different options are needed for different patients. Cabotegravir injection may be an excellent tool to include in the PrEP toolkit, especially for people who have difficulty taking a daily oral medication as PrEP."
HPTN 083—a four-year trial that began in 2016—is led by the National Institute of Allergy and Infectious Diseases (NIAID). The study randomized approximately 4,600 men and transgender women who have sex with men and are at high risk of contracting HIV, to receive either intramuscular injections with cabotegravir every two months, daily Truvada®, or placebo.(3)
Among the 50 people who became infected with HIV during course of the study, 12 were randomized to receive cabotegravir and 38 received daily Truvada®. Results showed that one third as many people became infected on cabotegravir compared with the oral drugs.
Though the study was designed to demonstrate that cabotegravir was at least as effective as conventional Truvada®, early results suggested the superiority of the injectable medication. With the encouraging results, an independent safety committee recommended the study stop early.
Conducting the study through ABSMC's East Bay Advanced Care (EBAC) presented a unique opportunity to enroll participants from diverse, underserved communities in San Francisco's East Bay area.(4) A commonly reported criticism of past HIV prevention research has been that the populations studied did not reflect the populations most affected.(5,6)
"We enrolled participants from San Francisco's East Bay with the goal to study a patient population that closely reflects people at highest risk of HIV infection," says Dr. Hall. Two-thirds of the participants were younger than 30 years old, 12% were transgender women, and 50% were African American.

"All three demographics are among the most vulnerable and at highest risk for acquiring HIV. And although specific enrollment of Latinos/Hispanics was not originally part of the study design, people from Hispanic communities were actively recruited and enrolled, and the study is stronger with their participation."
Though results of the HPTN 083 study may be a coup for the international HIV/AIDS community, its added value in Northern California may lie in providing a new asset for EBAC: knowledge from medical research that may benefit people seeking care at the Center.

"At East Bay Advanced Care, we're proud to offer hands-on support, medical treatments, complementary therapies and educational services for people living with HIV/AIDS," says Jeff Burack, M.D., an internal medicine physician at Sutter and medical director of EBAC. "Insights from studying this promising new strategy for HIV prevention may greatly expand our ability to deliver care informed by science and guided by an ethos to support health equity."

It is not yet known when single-agent cabotegravir will be reviewed for approval by the FDA for the prevention of HIV. A Viiv Healthcare press release stated that detailed results from HPTN 083 will be presented at an upcoming scientific meeting and used for regulatory submission to the FDA.
East Bay Advanced Care (EBAC): The largest HIV primary care clinic in the East Bay, EBAC delivers care and provides resources to approximately 1,400 people from diverse communities in the surrounding area.

The Center provides a comprehensive continuum of high-quality, professional treatment and support services to all clients regardless of their socioeconomic status. "Our mission is to provide essential, confidential medical and support services to all people living with HIV. The hope is to maximize quality and length of life, and to enhance personal dignity and self-empowerment in the face of HIV," says Dr. Burack. Each year, an estimated 1.7 million people are newly diagnosed with HIV.(7) Interested in supporting research at EBAC? Donate to Alta Bates Summit Medical Center.
Targeting the HIV/AIDS virus—decades of research give new hope for "cure": What does it take to halt a virus that has claimed the lives of approximately 32 million people?(7) HIV drugs cannot cure the disease, but they can help people with the virus stay healthy by preventing the virus from reproducing. The HIV virus completes several different steps to make copies of itself as part of the HIV lifecycle. If unimpeded, HIV integrates its viral DNA with the body's healthy CD4 cells, essentially turning the CD4 cell into a factory that makes more HIV cells, resulting in an HIV infection. All HIV drugs work by interrupting a step in HIV's lifecycle; this helps halt HIV replication.
Currently, six classes of HIV drugs target four steps of HIV's lifecycle. Cabotegravir stops the HIV viral replication process at the crucial point of the virus attempting to integrate its DNA with the DNA of a healthy CD4 cell. "The approval of new classes of HIV drugs — and new drugs in the classes already available — will help provide more treatment options for people living with HIV," says Dr. Hall.

References:
Cabotegravir is manufactured by ViiV Healthcare.
The HPTN 083 study that is part of the NIH-DAIDS-funded HIV Prevention Trials Network (HPTN). HTPN 083 was jointly funded by the U.S. NIAID, part of the NIH, and ViiV Healthcare, and was conducted by the HPTN. Study product was provided by ViiV Healthcare and Gilead Sciences.
This particular group of study participants was selected because, in trials such as HPTN 083, demonstrating efficacy requires the population studied is at risk of acquiring HIV – otherwise, study endpoints cannot be reached in a reasonable amount of time.
HPTN 083 was also offered to partners of existing patients as well as the clinic's prevention program clients.
A pandemic of the poor: social disadvantage and the U.S. HIV epidemic. Jennifer A. Pellowski, Seth C. Kalichman, Karen A. Matthews, and Nancy Adler. Am Psychol. 2013 May-Jun; 68(4): 197–209. doi: 10.1037/a0032694.
HIV/AIDS Inequality: Structural Barriers to Prevention, Treatment, and Care in Communities of Color. Why We Need A Holistic Approach to Eliminate Racial Disparities in HIV/AIDS. Russell Robinson and Aisha C. Moodie-Mills. July 27, 2012.
World Health Organization data. https://www.who.int/gho/hiv/en/