For most children, few things are scarier than monsters in the closet or the first day at school after summer break. But topping the list of kids' common fears may also be vaccines.
That's why Sutter Health piloted vaccination clinics to support kids who have difficulty or become anxious when receiving vaccines and immunizations in typical care settings. The new sensory-friendly vaccine clinics were also designed for children with intellectual or developmental disabilities (IDDs) including autism.
Thanks to philanthropic support there is currently a walk-in clinic in Fremont and a drive-through clinic in Los Gatos, which have collectively helped more than 100 families to date.
Sutter's sensory-friendly vaccine clinics emerged from the collaborative efforts of the Sutter Health Bay Area ADA compliance program, community partners serving the IDD community and Sutter Health Bay Area pediatric clinical teams led by Dr. Stephanie Chiang, a pediatrician and medical director of general pediatrics at Sutter's Fremont Center.
"In pediatrics, there are times when a child may need extra support and encouragement to get important care," says Dr. Chiang. "We're excited to bring new resources to our communities that make it easier for families to access safe, effective vaccinations in ways that help lessen children's fear and anxiety."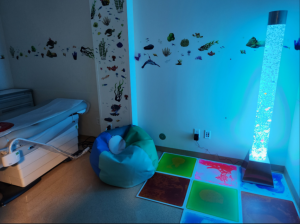 Sutter patient Raaghav, a healthy 10-year-old, was afraid of needles. He and his mom, Soumya, experienced firsthand the comforts and play-like activities available at Sutter's sensory vaccine clinic. At an immunization for COVID-19 in 2022 and another one for HPV last month, Raaghav was pleasantly distracted by the fuzzy toys, colorful clinic room walls and the animated video that nursing staff played before his shots.
"Our experience at the clinic was so smooth and pleasant for my son compared to the distress we saw at other clinics," says Soumya. "The nurses, other medical staff and the overall clinic atmosphere really eased his anxiety. This gives me confidence I'll be able to easily get Raaghav all his vaccines."
Even before Soumya arrived with her son, she was provided materials to help prepare Raaghav for the visit. Families are also encouraged to watch a video – called a "social story" – to help them better understand vaccinations before a virtual consult with a therapist who specializes in preparing children for medical appointments.
At the sensory friendly vaccine clinic, patients work with medical assistants and nurses including individuals who are trained to provide care to children with intellectual or developmental disabilities and needle phobia. For example, steps are taken to minimize wait times and transitions that may build anxiety before immunization.
The sensory-friendly vaccine clinics are important year-round but are expected to see even greater use in September and October, when doctors recommend that everyone 6 months and older receive a flu shot. Learn more about the Respiratory Virus Season Forecast.
At the Fremont clinic, patients are guided directly from a designated parking spot into the clinic room with sensory-friendly lighting, wall decor and toys to make the environment as comfortable as possible. There is no sitting in a general waiting room area.
At Sutter's sensory-friendly vaccine clinic in Los Gatos, children can even receive vaccinations inside a car which helps lessen fears and anxiety before vaccination.
Researchers at Sutter who are studying the impact of sensory vaccine clinics found they are making a true impact: parent/caregiver ratings of their child's comfort level in receiving vaccination more than doubled since the clinics launched. More than 75 parents have reported they are very likely to recommend the sensory vaccine clinics to others, and some families have returned multiple times.
Raaghav will soon start 5th grade, healthy for school, sports and play!