By Luke Pedersen and Ashley Boarman, Vitals contributors
Kathy Bennett is a Bay Area resident and a program manager for the Oakland Unified School District. For more than a year, she has been battling an increasingly common health condition: long-haul COVID.
After being diagnosed with COVID-19 a year ago, Bennett has suffered fatigue and other symptoms associated with COVID long-haulers. Because information was still being collected to create treatment plans for people like Bennett, she struggled at the time to find a provider who offered care options that fit her needs, including the option of traveling less to access care.
Through an open-enrollment health insurance event, Bennett learned about Tera — a virtual-first approach to primary care. Tera patients receive flexible, wraparound services from a primary care physician, or PCP, and a dedicated care team, including a licensed nurse, health coach and nurse practitioner at no additional cost.
To Bennett, Tera sounded like the personalized experience she was seeking, and she decided to switch health plans and join Sutter Health Plus, which offers members access to Tera, and selected Yumi Taylor, M.D., as her primary care physician.
"It blew me away that the Sutter Health Plus team was so engaged in helping me find the right provider," Bennett said. "When I received the new member welcome call to ask if I received my member ID card, I was speechless. I even called friends and told them about the service provided by Sutter Health Plan. I'm from the Midwest and this really feels like a small-town family health plan."
Dr. Taylor says she and her team empower Bennett with information about her care options, listen to her goals and connect her with the right specialized Sutter resources.
"I am impressed at how knowledgeable, articulate and proactive Kathy is about her care," said Dr. Taylor. "I empathize with the challenges she's faced in feeling heard about her condition. She is taking big steps to feel better, and our team is here to cheer her on!"
"I had such an amazing experience at my first appointment," Bennett said. "Before I met Dr. Taylor, I thought all healthcare was rushed, but she has a calm confidence, compassion, patience, and curiosity that inspires me to be more present during appointments. I feel like I'm part of a team and share in the decision-making about my healthcare. They've helped me to see that I deserve this high-quality care, and it has made such a powerful and positive impact on me."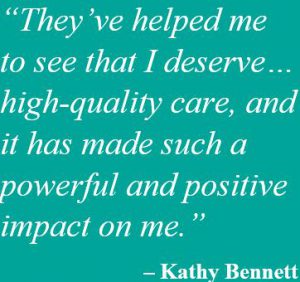 Bennett also appreciates the convenience of online connectivity through the Sutter Health Plus Member Portal and the My Health Online app. When she sends a direct message to her care team, she is impressed by how fast she gets a response.
"I love being able to message my care team and get alerts on my phone. It makes communication efficient and still feels personal, like I'm texting a friend. It's so easy, I just open the app, send a message, and they determine the right person to reply to me. I don't need to try and figure out which department or person I need to send a question to."
For Bennett, being able to work with people who genuinely care about her well-being has restored her faith in healthcare.