Sutter Health is sending its largest-ever shipment of medical supplies to Ukraine through humanitarian partner MedShare. The donation proves deeply personal for one healthcare worker at the organization who stepped up to help. 
All it took was a single email to get Sonia Milan Switters to act. Only 72 hours later, the 35-year-old Ukrainian American was zooming into a Sutter Health parking lot with a car full of donations destined for Ukraine.
"I didn't realize it at the time, but that email wasn't meant for me," said Switters, a pediatric physical therapist at Sutter Health in Sacramento. "I saw it and I ran with it."
Born in Cleveland, OH, and raised in a Ukrainian community, Switters says she feels deeply connected to her Ukrainian ancestry. "I went to a Ukrainian school, church, grocery store, banks, dance class and more," she says. Switters' maternal grandparents immigrated to the United States from Ukraine post-World War II and her father immigrated from a Ukrainian community from Poland in the 1970s. Switters moved to Sacramento for graduate school and her parents followed. Today, the Sacramento area is home to the highest concentration of Ukrainian immigrants in the United States, with one in every 125 residents of Ukrainian descent.
Switters and her family still have relatives and friends who live in Ukraine, which now finds itself under attack from the Russian military. The Ukrainian Ministry of Health estimates that more than 18 million of its people have been affected by the war with likely far greater impacts to its citizens still unknown.
"We go to bed calling people and we wake up calling people … wanting to make sure everyone's still alive," Switters says.
This sobering reminder is what Switters describes as the motivation behind her impassioned collection effort, in which she was able to gather enough donations to fill her entire car. She says it began when her manager at Sutter's pediatric rehabilitation outpatient clinic showed her an email. It was from their employer Sutter Health calling upon the integrated healthcare network's hospitals and medical foundations to gather medical supplies for Ukraine through MedShare.
MedShare is Sutter's partner for moving donated supplies and equipment around the world to the places where they are most needed. It was under the direction of former CEO Sarah Krevans that Sutter sought a single organization to partner with during times of humanitarian crises, explains Lee Ayers, Sutter Health's senior director of supply chain operations. For Ukraine, MedShare is working with Eastern European nonprofits to open primary-care supply centers that are helping to provide supplies to groups traveling to the affected region.
"It is critical that Sutter support efforts like this one. We cannot see crises like these happening all over the world and not take action," says Ayers. "Everyone in our network is rolling up their sleeves to pitch in. It's cool to see."
Sutter affiliates rally for Ukraine; respond with supplies
One of Sutter's largest hospitals in the Bay Area, California Pacific Medical Center, called upon staff from its four campuses to provide support. CPMC gathered more than 10,000 donations for MedShare.
"The immediate and generous response from CPMC staff and providers was heartwarming and also kept us on our toes," says David Hamlet, regional director of supply chain at Sutter Health. "Carts we put by the hospital cafeterias filled almost as fast as we could empty them. People gave such important supplies – everything from crutches and sleeping bags to diapers and baby formula. Some of these items are hard to find in the marketplace today due to supply chain disruptions and are especially challenging to get in a war zone."
"They pulled out all the stops," said Ayers, noting that CPMC's efforts went on to inspire leaders at other Sutter hospitals to issue a similar call-to-action.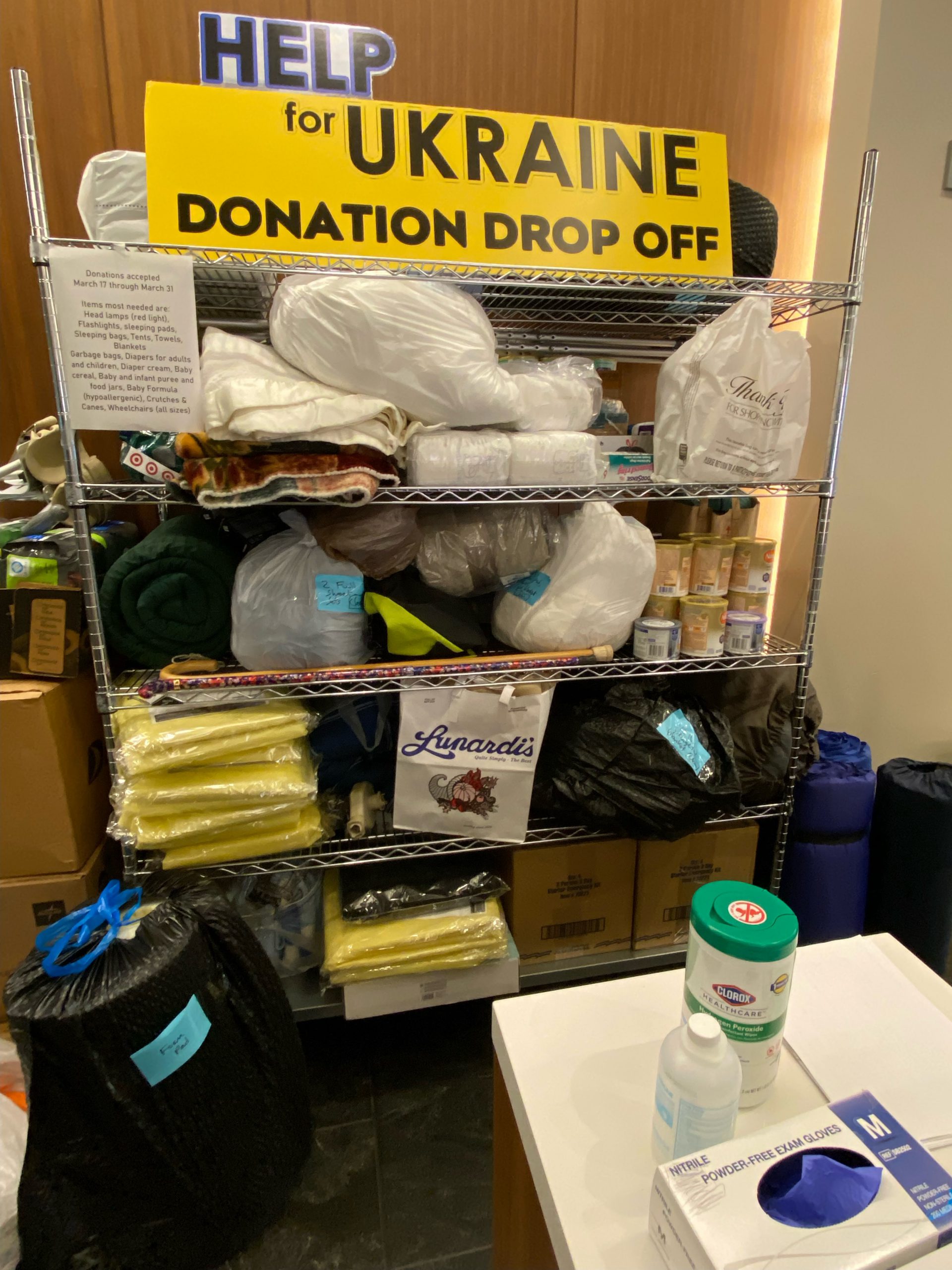 As for Switters' solo collection, she relied on her network of family and friends. She began by doing what so many people do who need to cast a wide net—by putting out a call on social media. She says the outpouring of donations was "incredible."
"It was obvious people wanted to help, and if they could give some specific thing that they knew would get [to Ukraine], that was important to them," Switters said.
Switters friends and neighbors dropped off first-aid staples like medical tape, slings and antiseptics. One person even gave a wheelchair. She says for those who were unable to offer supplies, they donated funds, totaling $1,300. Switters went to her local Wal-Mart and emptied out the entire First Aid section to spend the money, keeping track to account for every dime and item purchased.
"Anything I could buy that was on the list," she said is what she grabbed. The list she's referring to is the one given in email to Sutter's supply and logistics site leads, who oversee the health system's inventory of medical supplies for staff and patient care.
Ayers is proud of Sutter's tight-knit supply chain team. He says their department became especially bonded during the first months of the COVID-19 pandemic. During this time, staff played a critical role in securing important pieces of personal protective equipment (PPE) for care teams, while also "taking in" countless donations of masks and face shields from community members. Ayers says this latest effort for Ukraine is Sutter's biggest medical supply push-out to date.
When the Russia-Ukraine War began in late February, Sutter's supply and logistics team began receiving calls and emails from employees and leadership wanting to know where they could make donations or asking how the organization was going to help. The team used a weekly huddle to gather internal support and to issue a call for managers on the ground to gather supplies and work with their local MedShare reps to make the necessary handoffs.
Ayers says MedShare provided a list of 200 highly requested items across various categories, including "first aid," "medicine," "equipment," "pediatric" and "miscellaneous." Site leads were asked to comb for slow-moving items, while still balancing the supplies, equipment and medications needed to support Sutter's own operations. In total, Sutter Health has collected and staged more than 30 pallets of donations for distribution through MedShare to Ukraine.
When Switters rolled into Sutter's warehouse parking lot just before the drop-off deadline, they looked at her and said, "What do you mean you gathered all this yourself?" She credits Sutter's distribution manager Paul Chavez for not blinking and working to itemize and wrap every single item and put it on a pallet for MedShare.
Switters recalls her experience at Wal-Mart. She says on paper the items requested don't have much impact, but as she walked through the aisles, it hit her hard.
"Picking out wound bandages and silver dressings, and picturing a child being carried out of a bombed hospital with gashes on his or her face. I broke down," she says.
Upon reflecting on her whirlwind donation, Switters says, "It felt good to be doing something, anything. There is nothing more I can do from here, but to keep sharing Ukraine's plight, to keep the war at the forefront of the news, and to keep reminding the world that it is still happening."