Sutter Roseville Medical Center became the newest teaching hospital in Northern California in June 2022, when the first medical school graduates arrived for their residencies in internal medicine and surgery. In 2024, a Transitional Year residency track will allow new physicians the opportunity to experience several sub-specialties as they decide which they want to pursue for their careers. 
By Bryan Gardner, Vitals contributor
If variety is truly the spice of life, then imagine the competition for the 15 available spots when Sutter opens its first Transitional Year residency in 2024 at Sutter Roseville Medical Center. A "TY" residency is a one-year program that offers a well-rounded experience with residents rotating through specialties for limited periods as they are exposed to multiple medicine and surgical sub-specialties.
"It's a unique opportunity for resident physicians to gain a glimpse of what life looks like in various specialties, an experience that could influence and inform the medical path they choose," says Dr. Rishi Menon, who will lead the TY program along with the help of core faculty, teaching faculty and support teams.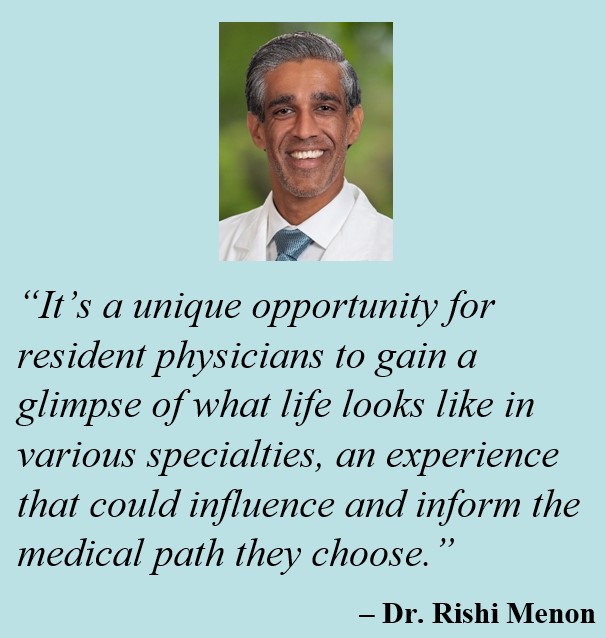 The TY program becomes the newest part of Sutter Health's growing GME program and is the 17th Sutter program to be nationally accredited by the Accreditation Council for Graduate Medical Education.
In June, Sutter Health will add 86 new residents to a graduate medical education program that now includes nearly 200 resident and fellow physicians, and plans are to expand program offerings and locations over the next several years. The goal is to eventually train more than 800 resident and fellowship physicians annually across the Sutter Health system.
Over the next several years, Sutter seeks to grow its physician ranks to provide more access to patients. "The only way we'll work through the shortage of physicians in our communities and across the country is by training more physicians. By growing our GME program, we are uniquely positioned to shape the future of healthcare," says Sutter Health President and CEO Warner Thomas.
Thomas sees Sutter's GME program providing a pipeline of physicians for many years to come.
The Transitional Year program expects to welcome 15 residents to Sutter Roseville the summer of 2024.
These residents will learn about inpatient medicine, augmented by experiences in emergency medicine, surgery and a range of subspecialties. Through the program's diverse clinical curriculum and a team-based and patient-centered approach, residents will acquire a breadth of experience and knowledge in managing patients with a range of medical conditions.