OAKLAND, Calif. –A Bay Area physician is warning people that delaying critical or preventive care because of fears of COVID-19 could have detrimental effects on their health.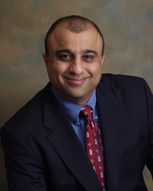 In an interview with KPIX 5's CBSN, Junaid Khan, M.D., a cardiothoracic surgeon and director of cardiovascular services at Sutter's Alta Bates Summit Medical Center in Oakland, says some concern about coming to hospitals or care centers during a pandemic is understandable, but delaying care should be balanced against the need to maintain good health.
"What we're concerned about is some patients are afraid to come to the hospital and delaying care for serious problems such as heart attacks, stroke and even lung cancer," says Khan. "Putting off care for chest pain or trouble breathing could lead to serious health consequences, like irreversible heart damage."
Khan says patients should feel reassured because hospitals in the Sutter Health integrated network of care are taking extraordinary measures to help keep patients safe, from increasing the frequency of cleaning and disinfecting spaces, to testing all hospitalized patients, screening employees for signs and symptoms of COVID-19 before each shift, restricting visitors and requiring masks.
Learn more about the precautions Sutter hospitals and care centers are taking to help protect everyone's health.
Preventive Care is Crucial
But it's not just emergency care that's critical, says Khan. "We want patients to get their regular preventive care including cancer screenings, treatment for chronic conditions like asthma, high blood pressure or diabetes, as well as vaccinations. Some parents are putting their kids at risk by skipping vaccinations and that is worrisome —we don't want a measles outbreak."
Read more about why preventive care like vaccinations is critical for kids.
People who are concerned about coming in for preventive care should call their doctors' office or schedule a video visit, says Khan. "Start there," he says, "then you'll know if you need to come in for an in-person visit."
Learn more about getting care during COVID-19 here.