By Kathy Engle, Vitals contributor
Sixteen years after the publication of Something that Matters: Life, Love, and Unexpected Adventures in the Middle of the Journey, this collection of essays from the Oakland-based Wednesday Writers is still making an impact in our community. To date, proceeds from the book have raised more than $17,000 for the Carol Ann Read Breast Health Center at Sutter's Alta Bates Summit Medical Center.
Under the guidance of co-editors Elizabeth Fishel, a local author and teacher, and longtime group member Terri Hinte, 42 women writers contributed essays covering their experiences and transitions in midlife.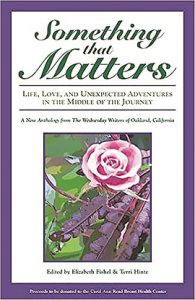 "Writing is a solitary pursuit, but through the Wednesday Writers group we formed a supportive learning environment to workshop, edit and revise essays while creating a social atmosphere that ultimately has given back to healthcare in the community," Fishel says.
This was the second anthology from the group. Fishel published the first, titled Wednesday Writers: 10 Years of Writing Women's Lives, in 2003 to support another local healthcare organization after her mother's death following a struggle with breast cancer.
"I turned my attention to Alta Bates Summit for the second edition because I live in Oakland and, along with many other writers in the group, have a strong connection to the care at Sutter," Fishel explains. "A contact at the hospital also arranged to pay for the publishing at a time when that wasn't as easy of a process as it is today. All of the books' proceeds were donated to CARBHC. We are so happy it has been a success."
Contributor Diana Divecha had taken a one-day writing workshop from Fishel through the University of California, Berkeley before joining Wednesday Writers.
"I wanted to shed my academic writing voice for something that would translate more for the general public," Divecha says. "Participating in the book was a wonderful undertaking. I remember Elizabeth saying, 'I can't run a marathon, but I can write,' and we channeled our fundraising desires that way."
Though Divecha had already been a CARBHC donor, supporting cancer navigation, participating in Something that Matters tied her to the community in a new way. She remembers the excitement of reading her work to audiences at local bookstores.
"I am a private person but writing and reading about important experiences in my life gave me immediate feedback," Divecha says. "I had no idea that a book of memoirs could provide me with that kind of gift and knowing that we have given back to Alta Bates Summit makes me very grateful to have been a part of this."
Something that Matters is available for purchase through the Alta Bates Summit philanthropy department at (510) 204-2956.