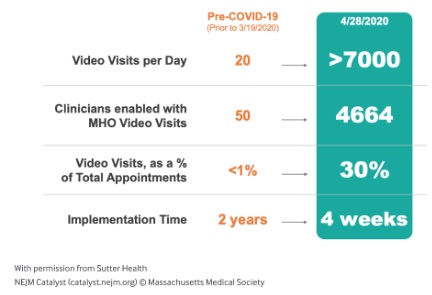 Digital health leaders from some of the most trusted health systems across the country, recently came together to share ideas, plans and learnings for launching and scaling digital strategies in response to the COVID-19 pandemic.
The group's first collaborative published article highlights how these organizations rapidly adopted and adapted digital tools to reimagine care delivery at light speed. The article touches on many topics from the importance of early investment for enabling adaptability to the scaling of digital health resources to support employee safety, well-being and satisfaction.
"It's exciting to see this work come together," noted Albert Chan, M.D., chief of digital patient experience for Sutter Health. "It's been especially powerful to have this unique opportunity to share our collective experiences and exchange ideas and potential solutions on the shared challenges we face."
The collaborative article was initiated through the Digital Health Symposium, an annual consortium of digital health leaders from top health systems, which launched in 2019 and is co-hosted by Sutter Health and Stanford Healthcare.
Sutter Health in particular, shared how it increased video visit volume from an average of 20 a day to 7,000 (a 350-fold increase) in less than a month. Sutter did this by expanding allowable use cases and enabling large groups of clinicians in waves to activate more than 4,600 clinicians in four weeks.