Many Northern Californians have focused on the continuing COVID-19 pandemic and the delta variant-related surge for the past several months, but infectious disease physicians are warning area residents: "Don't take the flu lightly."
Jeffrey Silvers, M.D., Sutter's medical director of infectious diseases, is joined by two other Sutter infectious disease specialists in sounding the alarm and encouraging area residents to get their flu shot as well as the COVID vaccine.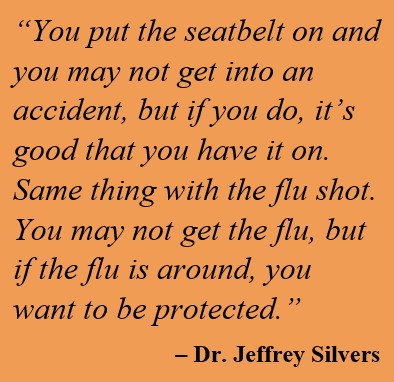 "Flu has not disappeared," said Ranjani Kalyan, M.D., medical director of infection control at Sutter Roseville Medical Center, who credits last year's flu vaccine, masking and social distancing with helping to keep the flu at bay and contributing to what turned out to be a mild flu season. "Now that we have access to both COVID-19 vaccinations and flu shots, I hope we feel more empowered against these viruses by getting armed for the fall-winter-spring flu season."
Dr. Silvers said while many flu cases are mild, there is a concern of serious illness, which can lead to hospitalization and even death. He likens getting a flu shot to wearing a seatbelt: "You put the seatbelt on and you may not get into an accident, but if you do, it's good that you have it on. Same thing with the flu shot. You may not get the flu, but if the flu is around, you want to be protected."
With so many hospitals still caring for COVID-19 patients in their ICUs, Brett Laurence, M.D., medical director of infection control at Sutter Medical Center, Sacramento, says that flu patients could add to the burden inside hospitals.
"The flu shot is important to reduce severe illness related to influenza, including need for hospitalization and ICU level of care," he said. "Getting the flu shot not only protects yourself, but others around you, and reduces the spread of disease."
Fall Is Best Time for Flu Shot
The experts say the best time to get a flu shot is now through the end of October, as flu often first appears in November or December and it can take a few weeks to build up immunity after receiving the vaccine. They also encourage everyone who is eligible to get both the COVID and the flu vaccine. Dr. Silvers says they can even be received at the same time.
Listen to Dr. Silvers on KCBS Radio's Ask An Expert. 
"There is no evidence that the flu vaccine reacts negatively with the COVID-19 vaccine or impacts the response to either vaccine," Dr. Laurence said.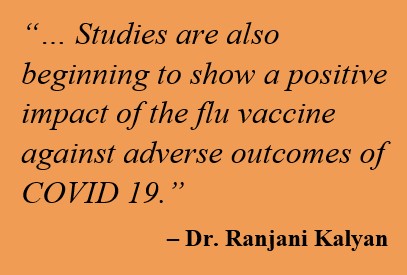 Dr. Kalyan says there could be an added benefit with getting this year's flu shot. "While there has been no evidence of cross-reactivity between influenza-induced antibodies and SARS-CoV-2," she said, "studies are also beginning to show a positive impact of the flu vaccine against adverse outcomes of COVID 19."
While there was little evidence last year of a "twindemic" – patients with both COVID and the flu at the same time – they don't rule out that it could happen this flu season. Dr. Silvers points out when COVID cases were first starting in early 2020, there were cases of patients who had both. He said as more activities open up, we will probably see more cases of patients with both flu and COVID-19.
"The flu will be back," Dr. Silvers said, "and when it does we will probably see a 'twindemic,' and those people will be at increased risk of having severe disease."
And if that happens, the experts fear the worst. "Simultaneous infection with flu and COVID-19 could be deadly," is how Dr. Laurence put it.
The best protection from both viruses is getting both the COVID and flu vaccines and to wash your hands frequently, Dr. Silvers said.
Infants, Kids Can Get the Flu Vaccine
But how about those who are too young to get the vaccines? The good news is that children starting at just 6 months old can get the flu shot. Soon, it is expected that a COVID vaccine for those 5-11 years old will receive emergency-use approval, so that age group will be able to receive both vaccines. That makes it even more important for smaller children ages 6 months to 4 years old to get their flu shots, since they won't have access to the COVID vaccine.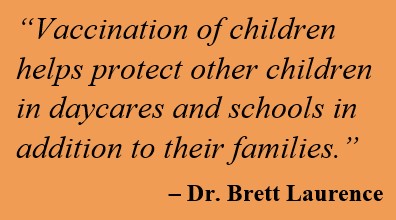 "The influenza vaccine has been well-studied and found to be very safe and effective in children over 6 months of age," Dr. Laurence said. "Vaccination of children helps protect other children in daycares and schools in addition to their families."
Meanwhile, the infectious disease specialists are doing their part.
"I will be among the first in line to receive the flu shot this year so that I may be well enough to take care of my patients," Dr. Kalyan said.