While the world grapples with the newest COVID-19 variant – omicron – flu cases continue to rise. That's why it's important to get your flu shot as well as being vaccinated for COVID-19 and getting your booster when the time comes.
That's the recommendation of Dr. Jeffrey Silvers, Sutter Health's medical director of Pharmacy & Infection Control, during the CDC's National Influenza Vaccination Week.
"The chance of getting infected simultaneously with influenza and SARS-CoV-2 (COVID-19) is significantly higher this flu season compared with last year," Dr. Silvers says. "Persons who are not immunized for either disease are at most risk for getting the dual infection, ending up very sick, hospitalized or dying. The risk of this situation can be dramatically decreased by getting both the vaccine against COVID and influenza."
Influenza cases are about 50% of what they were at this time in 2018 and 2019, but they are almost 10 times higher than they were last year. And, because there was so little influenza last year, Dr. Silvers says that could lead to more cases and more severe sicknesses.
"People who were not immunized last year were not exposed to any influenza virus and have very low immunity this year," he says. "Even a normal young, healthy person is much more likely to get much sicker this year if they are unvaccinated and develop an influenza infection."
Dr. Silvers says influenza outbreaks frequently start in younger populations who are in close proximity to each other, often in schools. The University of Michigan reported an outbreak in November, with 745 students being tested positive for Influenza A, or H3N2. So far, Dr. Silvers says, the flu vaccine has been a good match to the cases around the world.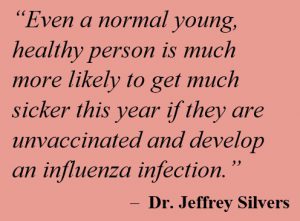 "There are four strains in the influenza vaccine," he says. "About half of the cases in the world are Influenza B and that should be a very good vaccine match. An H1N1 is a new strain in this year's vaccine and is likely a good match. An H3N2 is also a new strain in the vaccine this year; we are hopeful that it will be a good match. Although we can't predict the match yet, the vaccine should provide some protection against severe disease and the risk of hospitalization or death."
National Influenza Vaccination Week is designated in December so those who have put off getting their flu shot will still have time to get theirs before the holidays bring more people together and possibly spread more flu.
"Although influenza rates are still low in California, they are creeping up," Dr. Silvers reports. "It is fortunate that cases are low, because it gives everyone time to still get the influenza vaccine before we see a lot of disease."
And, he reminds everyone to get their vaccinations now, as it takes two weeks for the flu vaccine to take full effect, and many COVID-19 vaccines still need two doses three or four weeks apart. Children and toddlers as young as 6 months old can get the flu vaccine, while COVID vaccines are available so far for those 5 years and older.