Like many American children, Neel Patel remembers watching "Mister Rogers' Neighborhood" on television nearly every day as a young child. Through puppet shows, stories and songs, Neel learned the value of cooperation and how to make sense of hard topics like death and divorce.
Now a pediatrician with the Palo Alto Medical Foundation, Dr. Patel prides himself on taking a "Mister Rogers' approach" to helping children with their physical, emotional and social growth. So it was through this lens that the now 48-year-old physician and father of two shared his reasons why kids should get a flu shot this year.
More to navigate 
This year in particular, Dr. Patel says the flu shot can give parents and kids extra peace of mind.
"Until more children can get a COVID-19 vaccine, there's going to be stress anytime a child gets sick," said Dr. Patel. "I see parents who are desperate to know if symptoms are the result of COVID-19 or the flu or RSV (respiratory syncytial virus) or something else. If your child has gotten their flu shot you can at least know it's likely not the flu."
Dr. Patel says getting a flu shot can also give kids a small measure of control and confidence during what has been a frightening and unpredictable time. "It's a wonderful way to empower a child and teach them that they can do something proactive to help keep them safe."
It's a healthy habit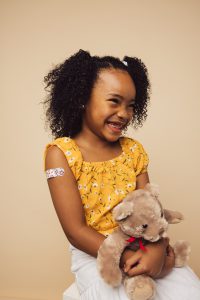 Getting an annual flu shot can also help kids build a deeper understanding of self-care and how their actions impact their health.
"We teach kids to put on a helmet before they ride a bike so they protect their head from injury," says Dr. Patel. "A vaccine is similar."
From washing hands to brushing teeth and eating healthy foods, kids are taught early about their body and how to take care of it. But as any parent will tell you, reinforcement and modeling are necessary to make these lessons stick. The flu shot presents a unique opportunity for both.
"Unlike most childhood vaccines, parents can actually get the flu shot alongside their child, showing them that it is important and safe," said Dr. Patel. "I've had families tell me that it's their yearly tradition to be vaccinated together."
Being a good neighbor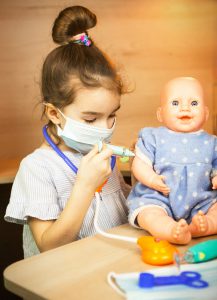 Beyond teaching children that a flu shot helps keep them safe, it can also be an opportunity to show kids how their actions can help others – what Mr. Rogers would call being a good neighbor.
"During the continued COVID-19 pandemic, I've seen parents extremely worried that their sick child has exposed someone else to a virus," said Dr. Patel. "And I've seen kids internalize that fear too."
If a child isn't yet old enough to get a COVID-19 vaccine, getting the flu shot can be one action that helps them know they've done their part to help protect their family, friends and community.
Viruses command our respect
Finally, Dr. Patel says that kids have learned over the past year that viruses are serious and command our respect. "Making sure your child gets the flu shot teaches them the value of vaccines and that they should be prioritized because they prevent serious illness," said Dr. Patel.
Mr. Rogers believed it was important to help children understand and prepare for changes in the world around them, and Dr. Patel wholeheartedly agrees. With the approval of a COVID-19 vaccine for children ages 5 to 12 years old expected before the end of the year, Dr. Patel says that getting the flu shot now could help kids be ready for what's ahead.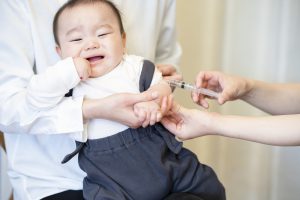 But a COVID-19 vaccine won't be available during this upcoming flu season for kids under 5 years old. For them, Dr. Patel says, getting a flu shot will help keep them, their families, preschools and child-care providers safe, too.
Everyone doing their part makes every day a beautiful day in the neighborhood.