Patrick O'Sullivan, 84, of Modesto, Calif., struggled for years with shortness of breath, fatigue, swollen ankles and unexplained weight gain. Diagnosed in 2012 with heart failure and now proactively managing his condition, O'Sullivan was initially prescribed heart failure and cholesterol-lowering medications and given tips for dietary and lifestyle changes to help regain health.
He is one of the more than 6 million Americans living with heart failure — also known as congestive heart failure, or CHF — which occurs when the heart muscle doesn't pump blood as well as it should. When this happens, blood may back up and fluid can build up in the lungs, causing shortness of breath.
Because of the complexity of dosing regimens for common CHF drug treatments, the condition is associated with high rates of medication non-compliance or improper use.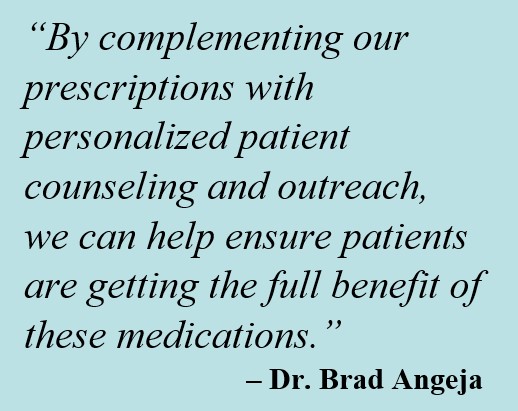 To help patients like O'Sullivan manage their condition and properly take heart failure medications, Sutter Health's pharmacy leadership team partnered with Sutter's clinical cardiovascular service line and the Northern California health system's Population Health Services to develop a Virtual Pharmacy program. The program is being piloted across Sutter Health and has enrolled 150 patients to date.
"People with heart failure are at risk for cardiac death, and scientific studies have identified which medications reduce that risk," says Dr. Brad Angeja, a cardiologist at Sutter's Palo Alto Medical Foundation. "For patients with heart failure, we can help improve quality of life by reducing their symptom burden."
Dr. Angeja says heart failure is one of the most common reasons for hospital admission at Sutter Health, so the network of hospitals and clinics can reduce healthcare costs by providing better care.
"By complementing our prescriptions with personalized patient counseling and outreach, we can help ensure patients are getting the full benefit of these medications," he said.
Josephine A. Quach, an advanced practice ambulatory care pharmacist at Sutter's Eden Medical Center said, due to complexity of heart failure management and the coordination needed with other health and social services, heart failure care is ideally provided by a multidisciplinary team. This includes cardiologists, nurses and pharmacists who specialize in heart failure, as well as dietitians and additional specialists.
"Pharmacists have an important role in helping patients optimize medication use," Quach said. "We serve as a critical resource for patients — referred by their physician — to learn more about their heart disease, understand their medications, and take proactive steps for a healthy lifestyle and diet."
How the Virtual Pharmacy Works
Designed to help patients with CHF manage their condition and improve their quality of life, the program is staffed by a team of specially trained pharmacists who work closely with Sutter cardiologists. There is no cost or insurance needed to enroll in this telephone support program.
Pharmacists review a patient's health history, medications and current home management, and then phone patients with a personalized assessment. They also educate patients on CHF, its signs and symptoms when worsening, how to optimize treatment (such as maximize benefit, minimize possible side effects and maintain optimal dosing), and how to make healthy nutritional and lifestyle choices like reducing sodium intake and engaging in appropriate physical activity. The pharmacy team also discusses with patients the cost of heart failure medications and determines the best medication coverage for ease of access.
For patients like O'Sullivan, who joined the program three months ago, the Virtual Pharmacy has been valuable. Quach speaks with him by phone every two to three weeks to discuss his CHF medications, the dosing regimens and any potential side effects associated with treatment, as well as his diet and exercise plan.
O'Sullivan said the program is a great resource that complements the compassionate, in-person cardiovascular care he receives at Sutter. He finds the phone appointments with Quach very convenient and appreciates the personalized follow-up.
"Since joining the program, I have worked with the pharmacist to adjust and optimize my medication regimen," which has led to easier compliance and improved health, he says.
Results of the Virtual Pharmacy pilot program will be assessed before it is implemented throughout the Sutter network of clinics and hospitals next year.