SACRAMENTO, Calif., — Sutter Health has been named to Forbes' 2023 list of the Best Employers for Diversity. Sutter was one of 500 companies nationwide named to the list and one of 47 healthcare systems to receive the honor. The Best Employers for Diversity were selected based on a survey of approximately 45,000 U.S. employees working for companies with a minimum of 1,000 employees.
This national award is presented by Forbes magazine and Statista Inc., a premiere statistics and ranking provider. The awards list was announced earlier today (April 25) and the complete list can be viewed on the Forbes website.
"At Sutter, we are committed to building a diverse and inclusive workplace where everyone feels understood and respected," said Warner Thomas, Sutter Health president & CEO. "We want to foster diversity, equity and inclusion (DEI) in all facets of our organization and are making additional investments in these areas to accelerate this important priority."
Thomas says the fact this award came about organically by interviewing people across the country is encouraging and shows Sutter's commitment.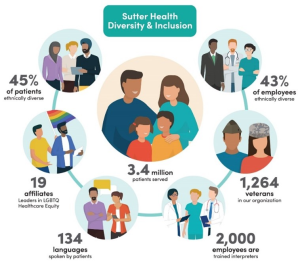 Thomas noted a national search is underway to recruit a Chief Diversity Officer who will work with him and other leaders across Sutter Health to continue to expand on current efforts and build an even more diverse and inclusive workforce, while guiding the impact Sutter makes on the diverse communities we serve.
Over the last several years, Sutter has established five systemwide inclusion resource groups that represent disabled, veteran, multicultural, women and LGBTQ employees. Across the Sutter network, employees and clinicians at many care sites have their own local inclusion groups and are engaging their teammates.
Just last month, Sutter also announced that 86 new and highly qualified resident physicians will join the organization's graduate medical education program in June. They represent a broad range of diverse racial, ethnic and cultural backgrounds. Sutter Health has nearly 200 resident and fellow physicians in its existing 16 Accreditation Council for Graduate Medical Education-accredited programs that span across six locations, and will expand over the next several years. The goal is to eventually train more than 800 resident and fellow physicians annually as Sutter's GME program becomes a pipeline for developing the next generation of physicians.
Additionally, three-quarters of Sutter's 50,000-plus employees are women and approximately half of the physicians caring for Sutter patients are women.
"I'm passionate about this," Thomas says. "We serve one of the most diverse patient populations in the nation. By creating a sense of belonging at Sutter Health, we are building trust and partnership with our teammates, patients and our communities."
The evaluation for the Forbes Award was based on these key criteria:
Direct recommendations: Employees were asked to give their opinions on a series of statements regarding Age, Gender, Ethnicity, Disability, LGBTQA+ & General Diversity in their current workplace. The recommendations of women, elders, and ethnic minorities were weighted higher than the non-minority groups.
Indirect Recommendations: Participants were also given the chance to evaluate other employers in their respective industries that stand out either positively or negatively with regard to diversity. Only the recommendations of minority groups were considered.
KPIs: Extensive research was carried out to evaluate how companies fared across a range of diversity-related best-practices. These included things like the presence of resource groups within the company, the publication of diversity data, and the share of women in board and executive positions.
About Sutter Health
Sutter Health's integrated, not-for-profit system of employees, associated physicians and volunteers support more than three million patients in diverse communities across 22 counties. Headquartered in Northern California, Sutter Health provides access to high quality, affordable care through its 23 hospitals, five medical foundations, 221 multispecialty ambulatory sites, ambulatory surgery centers, urgent and walk-in care centers, telehealth, home health and hospice services. Dedicated to meeting the growing and diverse health needs across the country, Sutter is growing its large academic enterprise with 16 Accreditation Council for Graduate Medical Education-accredited programs that span across six campuses.
For more information about the Sutter Health network visit: sutterhealth.org | facebook.com/sutterhealth | youtube.com/sutterhealth | twitter.com/sutterhealth.