As the Delta variant of COVID-19 spreads rapidly around the world and even regionally, a Northern California pulmonologist said today — as folks head into Fourth of July activities and travel plans — to keep those masks close even if you're vaccinated.
"It's all about risk mitigation," says Dr. Vanessa Walker, a Sutter Roseville Medical Center critical-care physician and medical director of the Sutter Valley Area electronic ICU. "People who are vaccinated can probably continue to forgo their masks around others who are also vaccinated, but when out in crowds or indoors with people who are also unmasked and have an unknown vaccine status, the safest thing to do is just wear a mask."
She said all unvaccinated people should be concerned and wear their masks at all times when outdoors among crowds and indoors with others they don't live with.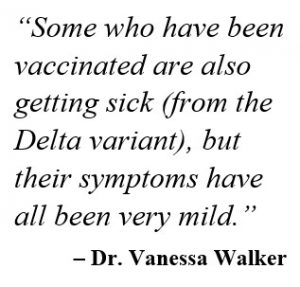 The Delta variant, which was first detected in India in late 2020 and has ravaged that country, has been found in 90 countries and all 50 states, and is now the dominant strain in the United Kingdom, which is reporting that 90% of its COVID cases are of the Delta variant, Dr. Walker said. It currently accounts for 15% of California cases; it was just 4% of cases last month, she said.
Dr. Walker said the Delta variant can spread twice as easily and seems to be affecting the younger population – those under 50. However, she notes, those are the groups that have lower vaccination rates, so it makes sense that they account for more of the cases.
"It is spreading mostly through the unvaccinated population," Dr. Walker said. "Some who have been vaccinated are also getting sick, but their symptoms have all been very mild."
For those who are traveling out of state, to mitigate your risk even more, Dr. Walker suggests checking the vaccination rates where you're going.
"If you are traveling to locations in the state or country with low vaccine rates," she said, "you are at higher risk of exposure."
Dr. Walker recommends, for the best protection and to help stop this and other COVID variants, for everyone to get vaccinated.
"Right now, we are in a race against variants and the only way to win is to beat them with vaccines," she said. "Do your part and protect yourself, your community and the world."
Dr. Walker discussed this topic on Capitol Public Radio's public affairs news program "Insight." The show is available online and as a podcast. You can listen to the podcast by clicking here; Dr. Walker's portion begins about 45 minutes into the show.