The COVID-19 pandemic took Navneet Singh completely out of his comfort zone.
As a pediatrician he went to work in personal protective equipment that made him feel like a clumsy Darth Vader. As a dad he stayed home and watched his two daughters slog through virtual school. He gave online yoga a half-hearted try.
Looking back Dr. Singh vividly remembers feeling uncertain, anxious and . . . fortunate?
Fortunate because he saw opportunity in each challenge he faced. At work he learned how to care for patients through video visits, an entirely new approach after 21 years of medical practice.
"It was imperfect at first, new things are often difficult initially, but I adapted and now I think video visits are great!"
At home he cherished extra time with his teenagers who couldn't socialize with peers. During his daily meditation he counted his blessings and asked God how he could help more people amid the pandemic's devastation.
"That's when I decided to start researching what makes people happy, what the science says on the topic," he recalls. Dr. Singh learned that gratitude "amplifies good" because both the person expressing thanks and the person on the receiving end experience an emotional lift.
This insight, coupled with his life-long habit of charitable giving, formed the seed of an idea: could gratitude and generosity go together? Could you really "pay it forward" as the saying goes?
"My motto was 'spread good vibes, not viruses' because I also wanted something that could offer person-to-person connection, at a time when that was so fraught."
The solution: a smartphone app that lets you quickly and easily donate to a charity in someone's name – and sends them a message of appreciation or recognition. "I wanted to make donating money to a charity as easy as buying something from Amazon, while also allowing people to recognize family and friends on special occasions or for acts of kindness."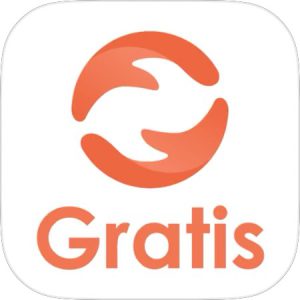 Launched in November 2022, the Gratis app is backed by a 501c(3) non-profit with 100% pass-through — Dr. Singh makes no money through the use of the app. Users can select from a pre-set list of charities that represent different needs, including disaster relief, mental health, food insecurity and gender inequity.
Download the app from the Google Play store here
The app also allows a user to invite friends and family to support their chosen charity instead of receiving a gift for a variety of life events, such as a birthday or graduation. "This is much more impactful, I think, then giving a gift card or sending a text," Dr. Singh says. "Think of the last time someone went out of their way to do something nice for you. Wouldn't it be cool to be able to send a thank you that lets them know you supported a charity on their behalf?"
Download the app from the Apple App store here
Dr. Singh says the app has a four-way benefit, because it supports a charity, makes the sender and recipient happier and raises awareness of social causes and concerns. For him personally, there's been an added bonus: the chance to practice resilience.
Resilience — the ability to cope in a difficult situation — is built every time you overcome a challenge. When Dr. Singh harnessed the stress of the COVID-19 pandemic into inspiration for an 'app that gives back' he showed how much your mindset matters. For the rollercoaster of app development he tapped into a mix of grit and perseverance.
Working with a graphic designer in Ukraine and programmers in India meant that Dr. Singh had to have meetings at night — when it was daytime on the other side of the globe. He got help from a neighbor who has a background in computer science, but mostly he learned by doing.
"My kids tell me I'm the least technology savvy person they know. I've never taken a business class in my life," jokes Dr. Singh. "The process has taken almost three years, and I've learned a lot about collaboration, iteration and patience."
With the initial 'labor of love' complete, Dr. Singh is now promoting the app, starting with an Instagram account that his teen daughters help manage (good daddy-daughter bonding time, he says). And while spreading the app broadly is his main goal, he also shares the story behind the app to, in his words, "encourage more people to notice, and practice, the qualities and skills that could help them be more resilient: positivity, creativity, connection and gratitude!"
Resilience is also built by reaching out for help, when you need it. If you or someone you know has a mental health need, is struggling emotionally, or has concerns about their mental health, there are ways to get help. Call or text 988 to receive confidential support from a trained crisis counselor, 24 hours a day. In an emergency, call 911.