By Lena Kauffman, Vitals contributor
Lynsey Chediak was born with a rare genetic bone disease called arthrogryposis and, for half of her life, couldn't walk.
"I've only been walking for the second half of my life because a team of surgeons took a risk on me and did this really impressive knee surgery to make walking possible," she says. "I just want to pay back what I can and make sure other patients are able to have the same types of great experiences I have had."
To show her gratitude and help other patients, Chediak became a patient and family advisor, volunteering her time to advise Sutter Health on important decisions.
As Sutter Health focuses on gratitude during Mental Health Awareness Month of May, the healthcare system wanted to thank all volunteers throughout Northern California, including the patient and family advisors for the role they play in improving care for all patients. These community advisors have extraordinary, unique perspectives as patients. Care center and leadership teams recognize their value and have invited patient and family advisors to join their teams to help address some of the hardest issues in modern healthcare delivery.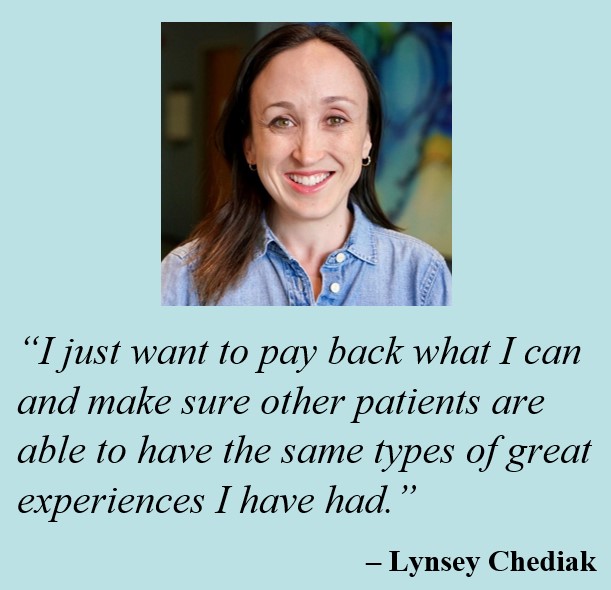 For most of the patient family advisors – called PFAs, for short – sharing their perspectives is both personally rewarding and a way to give back for the life-changing care they received and are still receiving.
Chediak has served on advisory boards before but was blown away when her first task as a Sutter patient family advisor was to meet with incoming President and CEO Warner Thomas and advise him on how he could improve Sutter.
"We each got to share our one or two things that we thought he should work on improving at Sutter from a patient perspective, and just to have the ear of the incoming CEO was incredibly valuable," Chediak says. "He was so genuine and open to hearing about what was working really well and what could be improved on. I was so impressed, and it is not every health system where you have a CEO that not only supports the existence of patient and family advisors but also engages directly with them."
How Patients Can Redefine a Problem
While Chediak is new to the group, Barbara Kivowitz has served as a Sutter PFA for six years. She, like Chediak, is very proud that she's been able to positively impact Sutter by giving input in very important decisions, including in how to address clinician burnout by improving clinician and patient interactions. She is motivated to help by her deep gratitude for care she received from the Sutter Health Institute for Health & Healing. After two decades of a chronic pain condition, she was finally diagnosed and treated with the help of the institute's care team.
"The Institute for Health & Healing was a different level of healthcare than I was used to," she recalls. "They got it. They understood what patient-centered care is. I thought, 'Wow, what a great organization. How do I get more involved?' "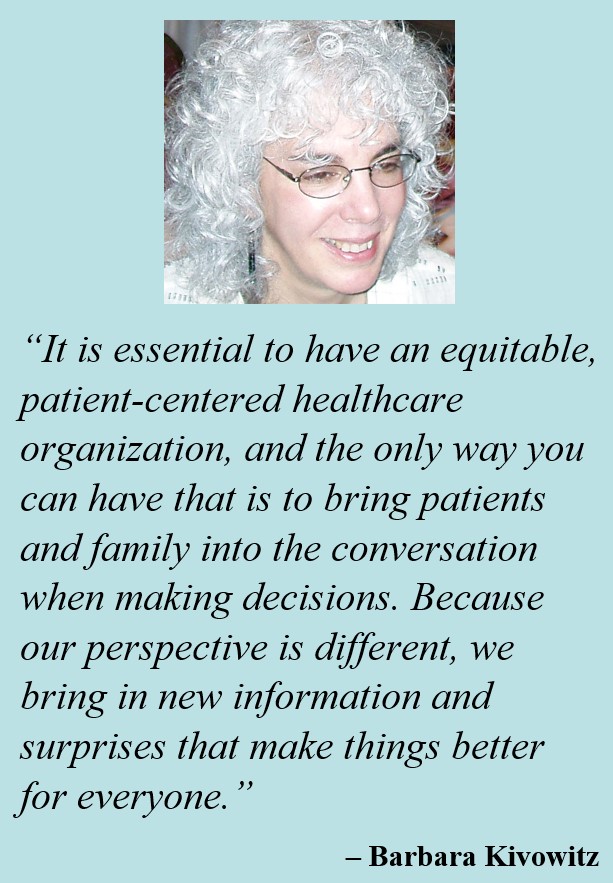 Kivowitz's pain had been negatively impacting her life for so long that when it was finally successfully treated, she wanted to pay it forward by helping other patients get great care.
Kivowitz is quick to clarify that PFAs don't have special knowledge or expertise in medicine or healthcare management. However, because they are patients or patient family members, they often see things from a different vantage point than clinicians and system leaders with extensive training in healthcare.
For example, the patient family advisors were brought in to advise on what to do about patients who overutilize emergency services care. Kivowitz and the other PFAs saw that defining the problem using the term "overuse" put the blame on the patient when in reality a whole range of system factors were at play in emergency services overuse. She suggested thinking of patients as underserved rather than as over-users and it changed the paradigm around how the problem was being approached, ultimately leading to more effective and equity-minded changes.
"It is essential to have an equitable, patient-centered healthcare organization, and the only way you can have that is to bring patients and family into the conversation when making decisions," Kivowitz says. "Because our perspective is different, we bring in new information and surprises that make things better for everyone."
The Value of the Patient Voice
The involvement of patients like Chediak and Kivowitz brings value to Sutter, say leaders like Dr. Conrad Vial, one of Sutter Health's top physician leaders.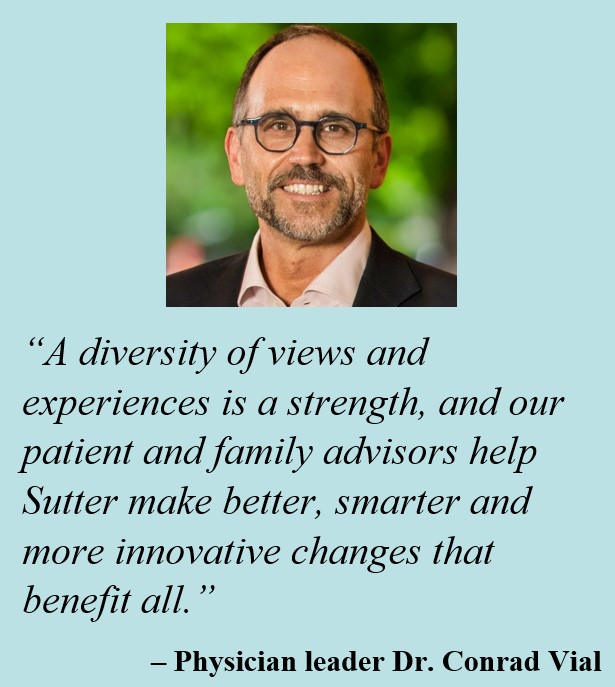 "The reason we involve our Patient and Family Advisory Group in many significant decisions for Sutter Health is that it's not just the right thing to do, it is the smart thing to do," he says. "In the course of working with the group, we've gotten many important insights that led us to improve our decision-making at key moments. A diversity of views and experiences is a strength, and our patient and family advisors help Sutter make better, smarter and more innovative changes that benefit all."
For those who would like to learn more about becoming a patient and family advisor, more information is available on the Sutter Health website.