Two heart-failure patients in Sacramento became fast friends in the hospital while awaiting new hearts. During those few weeks leading up to their transplants, they were delighted at what they saw:
A well-organized team of dedicated nurses and doctors, all with respect for each other and following best practices, collaborating on the best possible care for their patients.
They know a thing or two about teamwork, as each worked as managers and leaders in their respective fields. Wendell Stallworth, 61, of Folsom retired after a career in retail, his last position as a district manager for Starbucks. Dave Ford, 62, of Rancho Cordova is a retired lieutenant with the Department of Corrections.
Stallworth and Ford received their new hearts at Sutter Medical Center, Sacramento, the only heart transplant center in Northern California outside the Bay Area. Stallworth was transplanted March 28, and Ford on April 16.
For about a month in the cardiovascular intensive care unit, or CVICU, they'd see each other during their hallway walks and discovered they were both waiting for new hearts. With much in common, they bonded and helped support each other during the weeks leading up to their transplants.
"I told him we're going to be brothers for life," Ford says of Stallworth.
Stallworth penned the following letter of gratitude on behalf of both of them to the staff. It was sent as a recognition award nomination for the Sutter CVICU and the Heart Therapy Clinic, which includes the heart transplant program. It has been edited for style:
"We both spent over a month in CVICU as pre-heart transplant patients. To see some of the best practices used in employee development: 'Each One Teach One,' collaboration, team building, partner appreciation, etc. We never expected to see these practices used throughout each day with such a collaboration of nurses, charge nurses, doctors, nurse practitioners and (other) staff to work so seamlessly 24 hours a day, especially in an ICU. What impressed us the most was the interaction you don't always see in a hospital setting. Daily huddles (had) doctors asking nurses for feedback, opinions and open-ended questions: 'What do you think?' 'How will that that benefit the patient?' 'What should you do next?' There is a level of respect throughout the entire team.
"The team of doctors and nurse practitioners were amazing as they checked in (with us) daily. What we appreciated the most was their consistency and honesty through the entire waiting process. We never felt like we didn't know what was going on or what the next step was. We'd be remiss not to mention the professionalism of Dr. (Robert) Kincaid and Dr. (Aaron) Healy, who did the Impella and heart transplant surgeries, and Dr. (Gurpreet) Sodhi for his special care and attention. We've always known Sutter Medical Center for its cardiovascular care, but after going through the entire process, we realize Sutter Medical Center CVICU must be amongst the best in the United States.
"This team of nurses made sure that we were comfortable every day. We were amazed by their ability to stay calm and professional during critical times. These nurses not only provided us with special care, they taught us about the medications and their purpose. Not only did they teach us about doing the right thing — taking medications timely, eating correctly, staying active through the recovery process before and after the surgery — but they also communicated their own 'best practices' for post-transplant patients. What surprised me even more was their ability to work as a team in a critical environment yet find time to laugh and banter amongst themselves, as you could feel the love and respect they have for one another.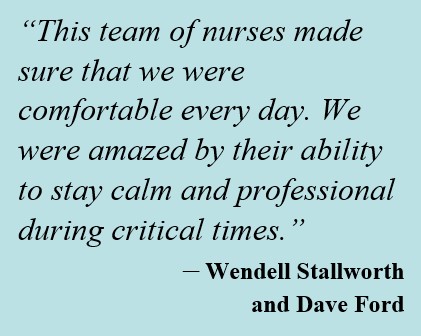 "We won't be able to remember every nurse that helped us throughout our stay in ICU so we apologize in advance. We now know what it takes to be a great nurse: You must have the welcoming and thoughtfulness like Lorna; the consistency, patience and training ability like Sorrel and Anna; the anticipation of a patients' needs like Rose; the special care and kindness like Zoom, Caroline, Gemma and Ellen; asking 'Is it perfect?' like Lisa; the professionalism like Jackie and Yesabeth; making patients feel like they are in home care like Regie; the confidence like Pedro; the team player like Eric and Ted; (and) making a patient feel like he or she was the most important patient on the floor like Jonathan. Regardless of who filled in or covered, the nurses always showed a level of compassion and professionalism. Head nurse Catherine really understands that personnel development, team-building and building relationships is the key to a positive work environment.
"A special thanks and recognition to Dr. Nancy Luo and the staff at the Heart Failure Clinic. They worked seamlessly from the evaluation process through transplant and have been timely and professional every call since we began our recovery. Katie, Darcy, Adam, Molly, Oscar, Mary Ellen and Nurse Practitioner Kristine have provided us and our families a level of service that has exceeded our expectations. THANK YOU from the bottom of our new hearts!
"Sincerely, Wendell C. Stallworth & Dave Ford, Sutter Medical Center, Sacramento Patients and Heart Transplant Survivors"