In a worldwide medical first in 1992, "a 7-foot robot called ROBODOC with nerves of steel and hands more steady than a human surgeon" assisted doctors in Sacramento, Calif., in replacing a man's hip with an artificial joint, news service United Press International reported 30 years ago. It was the first robotic surgery ever in the world.
The brainchild of retired Sutter Medical Center, Sacramento orthopedic surgeon Dr. William Bargar and his veterinarian partner, Hap Paul, ROBODOC was called into action on a human hip on Nov. 7, 1992, at Sutter General Hospital – now known as Sutter Medical Center, Sacramento. As Newsweek reported, the surgery "came off without a hitch." It helped spur a worldwide trend toward more minimally invasive surgeries through the use of robotics that continues today.
Now that pioneering surgical robot is part of the Smithsonian's National Museum of American History, but don't expect to see ROBODOC on display during your next visit to Washington, D.C. Smithsonian officials say fewer than 1% of its acquisitions are on display at any one time at its museums in our nation's capital, and so far it is not scheduled to be on display.
"We are big fans of ROBODOC," said Valeska M. Hilbig, a Smithsonian deputy director. "The National Museum of American History acquired ROBODOC for the museum's permanent collections to document this important history and to make it available for research."
ROBODOC, whose name was inspired by the movie "RoboCop," was the first innovation that linked two then-burgeoning technologies: robotics and medical imaging. Performing total hip arthroplasty by hand is not always precise, and there is a possibility that the bone may splinter. ROBODOC, a 7-foot-tall articulated arm with a drill on the end, helps prevent these complications through its 3-D image-directed preoperative planning, allowing the computer-guided robot to accurately execute the surgeon's plan. Better precision means quicker healing and hip replacements that are more stable and potentially last longer.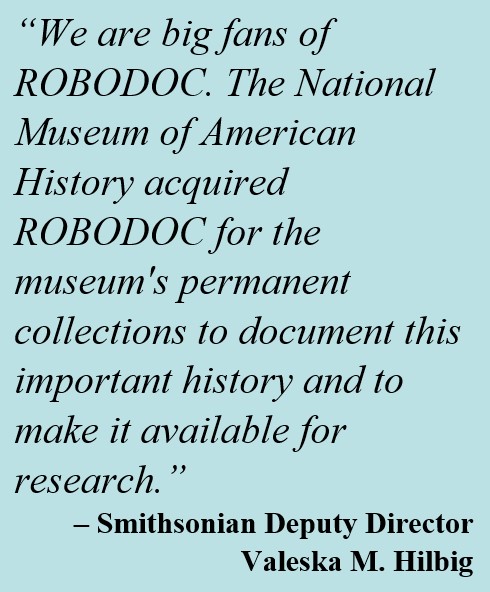 At the time, Sutter officials were optimistic about the future of robotics in healthcare and were excited to be on the forefront of new, groundbreaking technology.
"We've seen the use of robotics in other industries, so we see no reason to exclude healthcare from that technology," then-Sutter Medical Center assistant administrator Larry Maas told The Sacramento Bee a few days before the first surgery. "We believe the technology will have major applications, not just for orthopedics."
Dr. Bargar said at the time, "People from all over the world are calling me with phenomenal ideas. It's very exciting to think this technology may have a lot bigger consequences than cementless hips."
After its first 10 surgeries at Sutter Medical Center during its trial, the U.S. Food and Drug Administration approved the robot in 1998 and it has now performed more than 28,000 orthopedic procedures worldwide.
Today, Sutter Health is a leader in robotic surgeries for several different services, including gynecological, prostate and thoracic surgeries. For example, the da Vinci Surgical System has been employed at about a dozen Sutter hospitals to assist surgeons in performing less-invasive procedures that allow patients to go home sooner and recover more quickly without the pain medication usually needed for more invasive surgeries.
The company that now produces ROBODOC, THINK Surgical Inc. of Fremont, found the historic robot prototype in a storage unit. THINK contacted the Smithsonian to see if there was interest in acquiring Dr. Bargar's innovation.
At the time, Judy Chelnick, a curator in the museum's medical and science division, wanted to collect a robotic medical device, but hadn't chosen one. After seeing ROBODOC in person and researching its history, she decided this was the most important one to collect first – because it was the first.
"It's historical," Chelnick told Smithsonian magazine. "I see it as the evolution of surgery."
When announcing the museum's acquisition, John Gray, the museum's director, said: "This donation supports our curators' goal to explore innovative medical robotics in the advancing field of precision technology and engineering and to document the early history of medical robotics."
Dr. Bargar, who attended the Smithsonian's acquisition ceremony of the ROBODOC in Washington, D.C., in 2016, called the donation to the nation's history museum a "capper" to his long career.
"It's a tremendous honor," he said. "It's probably the biggest accomplishment of my life."
See and read about ROBODOC in the Smithsonian's online collection by clicking here. For more on ROBODOC's history, see this story in the Smithsonian Magazine. Here is the UPI story from 1992, and one that appeared in Newsweek. For more on robotic surgeries offered at Sutter, click here.