Consumers can take better care of themselves by paying attention to which clinical teams successfully treat specific diseases and meet patients' needs
Due to COVID-19, some people hesitate to stay up to date on their medical appointments. This can lead to complications for those with chronic conditions likes diabetes or asthma. While stay-at-home orders are in effect for much of California, routine medical care remains open—with safety precautions in place.
So, how can you improve upon taking care of yourself? Measuring the data of how care teams treat specific diseases, communicate with patients and respond quickly to patient needs can help. It can potentially even shed light on which health system might best fit them and their families.
Each year, the Office of the Patient Advocate (OPA) publicly releases California's Health Care Quality Report Cards. The OPA Report Cards track the quality and patient experience performance for nearly 200 participating medical groups in their care for commercial HMO patients.
In the recently released report cards, several of Sutter's medical groups performed among California's best in both quality and patient experience for the 2019 measurement year. The complete report card list is available at www.opa.ca.gov.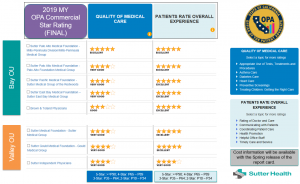 For quality, the IHA examines medical groups to determine if their patient care meets the national standards using treatments proven to be effective across 15 quality areas, including:
• Asthma care
• Diabetes care
• Heart care
• Preventive screenings, tests and immunizations
Meanwhile, a patient survey captures feedback on six different patient experience areas, including:
• Communicating with patients
• Patient care coordination
• Helpful office staff
• Timely care and service
For both quality and patient experience, a five-star "excellent" rating places organizations at or above the 90th percentile for participating medical groups. Four stars, considered "very good," puts groups between the 65th and 89th percentiles.