By Veronica Bartell, Vitals contributor
Judy Schoer's father was a commercial plumber for many years and, in his 60s, was diagnosed with a form of lung cancer that's caused by asbestos fibers from construction material.
"The tumor was inoperable and, unfortunately, metastasized to his brain," said Schoer. "It was awful. For anybody that would be awful."
At that time, Schoer, her mother and the rest of the family faced the tragic reality of having to prepare for hospice services to assist in his care for his last months.
"While he was being cared for at Sutter Medical Center, Sacramento, he was able to undergo radiation and live a little bit longer," Schoer said. "During those last couple of months, thank goodness for hospice. My mother was worn out, as (we all were)."
In his memory, and due to the excellent care he received, for years Schoer and her mother have made donations to Sutter Health's hospice service to help others in need of that level of care.
"After he passed, my mother and I decided that we would make donations whenever possible in his name to Sutter Health hospice services," she said. "I don't think I've missed a year of donating in 25 years now."
The donations helped Schoer and her mother cope with their loss by paying their gratitude forward, knowing that the gifts would go on to help other families who are experiencing similarly difficult circumstances. The family are one of numerous area residents who donate to Sutter Health services to assist in it not-for-profit mission in caring for its patients and the community.
Schoer's mother continued making donations each year until she passed away in 2017.
"My mother had taken a fall in her assisted living area and went into a coma from a major brain bleed," said Schoer. "After she passed, I started making donations in both my parents' names. It's something I feel I owed to Sutter Health hospice services so much. Even though my mother wasn't in hospice, she always spoke fondly of it and how grateful she was for the care my dad received."
In addition, Schoer also lost her younger sister, Susan, just last year. "She had lung cancer because she was a fierce cigarette smoker at age 49. The lung cancer then metastasized to her brain. They radiated the cancer and used the gamma knife, and she became cancer free, but she also had a lot of other health issues. So, both my sister and my father had lung cancer that metastasized to their brains."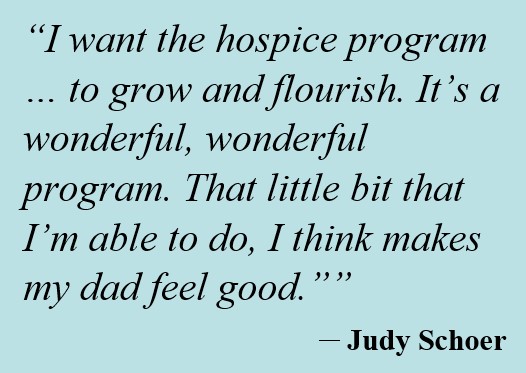 Schoer continues to honor her parents and Susan each year by contributing generously to the very programs that helped them when they needed it the most.
"I've been fortunate in life, and just to know that somebody else is getting that same type of 'angel on Earth' care, consideration and compassion that my dad got. … That's why I do it," said Schoer. "I want the hospice program to continue. Not only to continue, but to grow and flourish. It's a wonderful, wonderful program. That little bit that I'm able to do, I think makes my dad feel good."
To learn more about the many ways you can help keep hospice services growing and flourishing just like Schoer, visit sutterhealth.org/scah/giving.