Primary care is important at any age, but it is perhaps most critical for older adults. Afterall, routine visits are opportunities for doctors to monitor chronic diseases, make medication adjustments and screen for cancer, among other recommended care.
"A yearly physical or other 'preventive' care can have an immediate impact for seniors," says Dr. Albert Lam, Medical Director of Geriatric Medicine, with the Palo Alto Medical Foundation. "Older adults are more likely to be diagnosed with high blood pressure, diabetes, breast or colorectal cancer. Health management, screening and conversations about what matters most to the patient are critical aspects of primary care and healthy aging."
The Centers for Medicare and Medicaid Services (CMS), the federal agency that runs the Medicare program, underscored the importance of primary care in 2011 when it made the annual wellness visit and other preventive care services free to beneficiaries. More recently CMS has gone further, by developing national quality measures and a Star Ratings program to publicly report where high-quality primary care is happening, and where it isn't.
In California, many of the same measures CMS uses are tracked and reported by the Integrated Healthcare Association (IHA) to help consumers make more informed decisions when choosing a provider.
Measures that IHA tracks and reports, as part of its Medicare Advantage Align. Measure. Perform. program include, but are not limited to:
Screening for Cancer | Making sure patients receive their breast and colorectal cancer screenings on a regular basis.
Diabetes Care | Helping patients with diabetes control their blood sugar, receive recommended eye exams and kidney function tests and take statins as needed.
Managing Osteoporosis | Making sure that women, aged 67 to 85, who suffered a bone fracture had their calcium level tested or received a prescription to treat osteoporosis soon after fracture.
Managing High Blood Pressure and Heart Disease | Helping patients with high blood pressure or heart disease by prescribing appropriate medications.
According to the IHA, using the same measures and standards helps create reliable performance benchmarks and allows providers to focus on their most important areas for quality improvement. It has another benefit too: top performers can be publicly recognized for their high-quality care.
Recently IHA announced the medical groups that performed well on quality measures in 2021, and several physician organizations aligned with Sutter Health's not-for-profit, integrated system were acknowledged.
In the quality of care category, for Medicare Advantage patients, IHA awarded 4.5 stars out of a possible 5 stars to: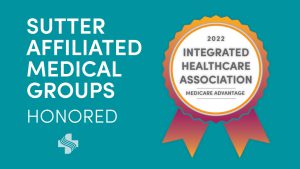 Sutter Gould Medical Foundation – Gould Medical Group
Sutter Palo Alto Medical Foundation – Mills-Peninsula Medical Group
Sutter Palo Alto Medical Foundation – Palo Alto Foundation Medical Group
To earn this recognition a medical group needed to reach an overall star rating of 4.5 across all clinical quality measures reported by IHA. Only 43 participating provider organizations state-wide attained this achievement.
Previously IHA recognized six Sutter-aligned medical groups for delivering high-quality care and exceptional patient experience to Commercial HMO patients during the 2021 measurement year. Two physician organizations also earned accolades for more effectively managing costs. Read that press release here.
About IHA's AMP programs
IHA's Align. Measure. Perform. programs use a fair and transparent approach to measurement and benchmarking to create a reliable assessment of performance for medical groups, independent physician associations, and accountable care organizations across health plans. The AMP programs are recognized nationally for partnering with organizations across California and the nation to drive meaningful changes that reduce costs and improve healthcare quality and outcomes. Paired with the insights from IHA's California Regional Health Care Cost & Quality Atlas, the AMP programs help partners reduce the reporting burden for payers and providers by using a standard measure set to deliver objective data and analysis that support performance improvement. For more information, visit IHA.org.