Matthew Farruggio is no stranger to overcoming adversity in health and in life. He was diagnosed with muscular dystrophy in 2009, suffered a hemiplegic stroke in 2016 and began using a wheelchair full-time in 2019.
"I've had some pretty significant physical setbacks, but I don't obsess over how that's not 'fair,' " says Farruggio, who this season started a part-time job with the San Francisco Giants baseball team. "I choose to celebrate what I can do."
Farruggio's life was at one point inextricably linked to health and fitness. Farruggio was born and raised in San Francisco and embodied a life in constant motion. He owned his owned photography company and he often could be found backpacking in many of California's iconic national and state parks, biking up the winding roads of Mount Tamalpais, and conquering marathons as easily as most folks walk to the mailbox. But things took a turn for Farruggio in the last decade.
Read Matthew Farruggio's story in the San Francisco Chronicle here.
Farruggio's stroke left him partially paralyzed on his left side. He spent six weeks recovering at Sutter's California Pacific Medical Center Davies campus' rehabilitation center. It was there he worked closely with a neurologist, occupational therapist, speech pathologist and physical therapist to regain the use of his limbs and to relearn everyday skills like holding forks and texting (he needed to communicate with his teenage son, after all).
On Farruggio's road to recovery, he was referred by his care team into CPMC's philanthropically funded PEP Jobs Program. Pep Jobs helps assist individuals with epilepsy, brain injuries and other neurological conditions get back to work. CPMC's program was started 15 years ago by Sutter Pacific Medical Foundation's Peter Weber, M.D., surgical director of CPMC's epilepsy program, and Kenneth Laxer, M.D., FAAN, FAES, FANA, epileptologist.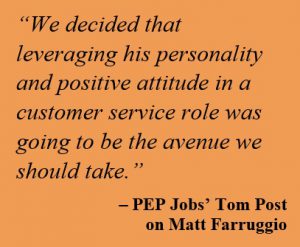 Tom Post, employment coordinator for PEP Jobs, recalls his first meeting with Farruggio. "This is a likeable person. And that's half the battle when you're interviewing," said Post. "We decided that leveraging his personality and positive attitude in a customer service role was going to be the avenue we should take."
Post had a previous connection with the San Francisco Giants and went with Farruggio to a job fair, where he was hired on the spot. Stymied by the pandemic and lack of in-person fans at games, Farruggio was finally able to start part-time work with the San Francisco Giants in September. He takes tickets, manages lines, helps guests navigate the park, and — what he describes as his favorite part – participates in back-and-forth banter with the fans.
For Farruggio, it's always been about carrying on. In spite of having muscular dystrophy and then a debilitating stroke, he says he's accepted he has limits, but they aren't everything.
"I've been close to death a couple of times, and all of a sudden you see this choice," he said. "Which way do you want to go? And for me, it's always been, 'I want to stay. I want to be here and be who I am.' Keep the journey going, you know?"