Summer is in its final stretch and the outdoors beckon. As you savor those last laps in the pool or final flings of a frisbee, dermatologists remind us about the importance of skin protection. August is Summer Sun Safety Month, and clinical experts offer these tips to help keep you covered from head to toe.
Take Cover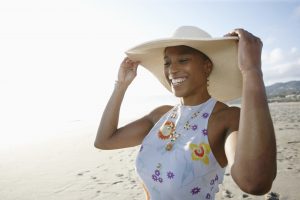 Is there truth to the phrase, "made in the shade?" According to the experts, it can be one of the safer places outdoors for your skin. Dr. Darci Phillips, a dermatologist with Palo Alto Medical Foundation in San Carlos, Calif., says staying in shaded areas during the sun's peak hours, between 10 a.m. and 4 p.m., can help offer more protection from the sun's harmful rays. For babies less than 6 months old, avoid all sun exposure.
Clothing and accessories can offer layers of protection from the sun as well. When outside, Dr. Phillips suggests covering up with lightweight clothing, a broad-brimmed hat and protective sunglasses that filter ultraviolet (UV) light. Pro tip: Your clothing screens out harmful UV rays if you can't see your hand through the fabric. For instance, a dry, white T-shirt typically offers a sun protection factor (SPF) of 7. By comparison, dark clothing with a tight weave offers even more protection. Specially designed sun-protective clothing is also readily available now and can offer another layer of protection since it absorbs or blocks harmful UV radiation.
Sunscreen Routine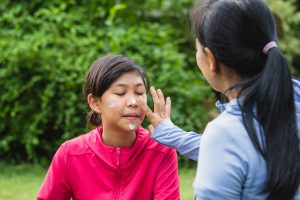 Sunscreen is almost synonymous with summertime. But that doesn't make it a care-free affair. It's serious business as it protects the human body's largest organ. Experts suggest that you scrutinize your sunscreen's active ingredients list. Dr. Phillips suggests people look for mineral-based sunscreens with zinc oxide and titanium dioxide, which are classified by the FDA as safe and effective. She also suggests prioritizing "broad-spectrum" options, which means the sunscreen filters out both UVA and UVB rays. "Even though UVB primarily causes sunburns, UVA is also dangerous and contributes to skin aging," she said.
Up to 80% of the sun's UV rays can pass through clouds, so apply sunscreen daily, even on overcast or rainy days. Regular daily use of sunscreen reduces the risk of developing melanoma, the worst kind of skin cancer, by 50%.  Many doctors, along with the American Academy of Dermatology, recommend water-resistant sunscreens with at least SPF 30.
And don't skimp! Most people don't use enough sunscreen. You need at least 1 ounce — enough to fill a shot glass — to cover the exposed areas of an adult body. Don't forget your ears, scalp, the back of your neck, and the back of your hands. Also protect your lips with a balm that contains sunscreen.  When outdoors for an extended period, make sure to reapply your sunscreen every two to three hours, and especially after swimming or sweating.
Now, who's ready for some beach volleyball?
Note: This content is not intended to be a substitute for professional medical advice, diagnosis or treatment. Always seek the advice of your physician or other qualified health provider with any questions you may have regarding a medical condition. Never disregard professional medical advice or delay in seeking it because of something you have read on this website.