Five-year-old Rosie Fuentes thought being a dog sitter would be fun and easy. Paired with a puppy, she quickly realizes it's a lot of work. Frustrated and out of patience, Rosie looks at the camera and tells the audience she needs to "flop."
This is a pivotal scene in an episode of "Rosie's Rules," a new PBS KIDS show about a Mexican-American preschooler who likes to figure things out for herself.
That independent spirit is especially evident when Rosie calms herself down to solve a problem. In a move she calls 'the flop,' Rosie lays on the ground, takes a few deep breaths and wiggles around until she feels better. She even has a rhyme to talk herself through the process: "Breathe in, breathe out. Wiggle about. Now I'm ready to figure this out!"
"Rosie reminds us that kids learn best by doing," says Dr. Helen Chang, a Palo Alto-based pediatrician and integrative medicine doctor with Sutter's Palo Alto Medical Foundation (PAMF). "Our job as adults is to give them tools so they can help themselves through life's challenges, which includes difficult emotions."
Dr. Chang's belief, coupled with her own experience with mindfulness, led her to co-develop an educational series that teaches adolescents how to overcome anxiety and stress using techniques like Rosie's flop.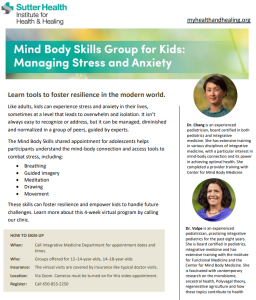 "Something like 'the flop' helps get feelings out, so you don't dwell on them," explains Dr. Chang. "When your mind is no longer racing or imagining the worst, you can think more clearly and prepare to act." She says she isn't surprised that Rosie's 'flop' incorporates breathing and movement. Both are known to release tension and promote relaxation.
Series co-lead, Dr. Janet Volpe, who cares for patients at Palo Alto Medical Foundation in San Carlos, agrees. "When you can't 'shake' a thought, try shaking your body," the board-certified pediatrician and integrative and holistic medicine physician said.
Helping kids to get out of their head and reconnect with their bodies is at the heart of the four-week, virtual series the doctors will facilitate starting in January 2023. Aptly named "mind-body skills," these techniques might include yoga, breathing exercises or drawing – depending on the child's age. The initial series is tailored for 12- to 14-year-olds with a second series planned for 14- to 18-year-olds in February. Drs. Chang and Volpe are looking into offering a series for 9- to 11-year-olds and 18- to 22-year-olds as well.
The group format is also an intentional choice. There is ample evidence that participants form a bond or socialize more easily when exploring the same topic as a sub-set of peers. "Children crave connection, and it's important for them to see that other kids feel the way they do," Dr. Chang noted.
The physician-facilitators both say that, while they share some of these tips with patients already, they're excited to delve into greater detail during the 90-minute sessions. "Working in urgent care I've seen physical symptoms that were caused by unresolved mental struggle," said Dr. Chang. "What might have started as a sensation of butterflies in a child's stomach can morph into upset digestion over time – so it's really important to practice emotional regulation early." Dr. Chang added that these coping skills are also useful for children who suffer from a chronic illness because they cultivate the resilience needed to live with ongoing physical discomfort.
"What brings a child to this series is less important than what I hope they will get out of it," Dr. Chang said. "I want them to know they have a superpower; they can take a pause and hit the reset button on a bad day."
For appointment dates, times, or to learn more, call the Integrative Medicine Department at (650) 853-2250 or email IntegrativeMed@sutterhealth.org Note: This series is not limited to established PAMF patients. Each session will be billed to insurance as a virtual visit, prospective participants should confirm coverage, and any applicable co-pay, for these visits with their insurance provider prior to registering.