A public health campaign is turning "La vacuna cura," Spanish for "the vaccine cures," into art. This simple phrase carries a powerful message—one that healthcare workers in Sonoma, Calif., hope resonates with the county's Latinx population, the group hardest hit by COVID-19.
Brian Prystowsky, M.D., a pediatrician with Sutter Medical Group of the Redwoods, is helping spearhead this grassroots public health campaign, calling upon healthcare workers, artists and other community organizations to help combat vaccine mistrust in communities of color.
"[Black and brown] communities tend to be, in general – and totally appropriately – more skeptical of anything that comes from the government or big institutions because of the historic systemic racism that's been somewhat embedded in a lot of these systems," says Dr. Prystowsky.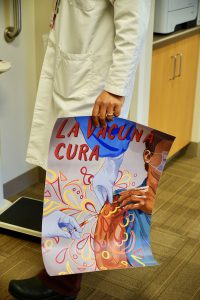 To bring the campaign to life, local Latinx artists with Raizes Collective designed eye-catching posters, banners, and cards, to mimic traditional Mexican Lotería cards. What's important, says Dr. Prystowsky, is reaching these groups with something that's familiar and from a trusted messenger. In this case, it's art that looks like Lotería cards.
Beginning on Feb. 14, these bits of collateral were distributed by hand. They were also placed in storefronts and in other visible areas in the community.
Dr. Prystowsky says that vaccine hesitancy, or vaccine acceptance, exists on a continuum. If you can get the right message out there, you can help educate, clear up confusion and increase vaccination rates.
Since the start of the COVID-19 pandemic, Latinos in Sonoma have been disproportionately impacted by the virus. Data shows that Latinos in the county located north of San Francisco are 27 percent of the local population, but they currently comprise 65 percent of COVID-19 cases.
Dr. Prystowsky sees the numbers firsthand, which is why he believes meeting communities where they are is so important.
"The one thing I wish for this community to understand is that two weeks after getting my second vaccine, that feeling of a bear that had been chasing me for a year was finally gone," Dr. Prystowsky said.
Listen here to Dr. Prystowsky's 'Difference Makers' interview on KCBS Radio.