Aaron Miller, 34, of San Ramon, Calif., had a brain tumor surgically removed to save his life. Now that tumor is being used in research to potentially help save the lives of other cancer patients.
A sample of Miller's tumor was provided to scientists at Sutter's California Pacific Medical Center Research Institute, where the Cancer Avatar Project is currently studying tumors of patients with some of the most aggressive, difficult-to-treat forms of cancer.
No other cancer is as challenging to effectively treat as brain cancer, or glioblastoma, says Lawrence Dickinson, M.D., a Sutter clinician-researcher and brain cancer surgeon at Eden Medical Center. Brain and other nervous system cancers are extremely rare, and it is estimated that 18,020 adults will die from primary cancerous brain and nervous system tumors this year. The average survival rate for all malignant brain tumor patients is only 36%.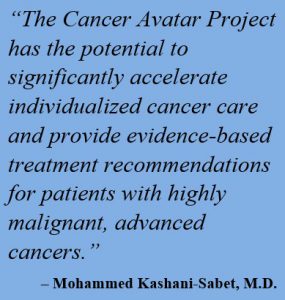 "Malignant brain tumors are difficult to treat in order to provide long-term survival for patients afflicted," says Dr. Dickinson, who also performed Miller's successful tumor removal surgery. "One of the main reasons for this is the profound genetic variability of brain cancers, both within a single tumor and between patients with cancers such as glioblastoma. This genetic variability means that targeted therapies often only have effect on a subpopulation of cells in any tumor. Therefore, these therapies only slow the progression of the disease and do not provide a cure."
That's why the Cancer Avatar Project is aimed at testing drugs, as single-agents or in combinations, that can overcome resistance to therapy and offer new options once patients' tumors stop responding to the standard of care. Cancer Avatar Project strategies are aimed at helping treat brain cancer and some other types of cancer.
Miller is pleased that his tumor is part of the Cancer Avatar Project and envisions the research as potentially critical for other people with brain cancer or patients whose tumors may recur.
"It's comforting to know that this type of groundbreaking research is underway to help care for other people with this potentially life-threatening illness," Miller said.
Miller a Father Who Wanted to Live for His Family
On July 1, 2020, Miller was diagnosed with a slow-growing tumor, which had grown to the size of a tennis ball and was pushing on one side of his brain. Mild muscle spasms and tingling in his fingers were the only warning signs that had emerged in the four months prior to the diagnosis.
Married and a father of two young kids, the diagnosis was shocking. "With a 4-year-old and a 4-month-old, this was the most devastating moment of my life. Knowing I might not be around for them or my wife really tore me apart," says Miller.
He was immediately referred to Dr. Dickinson, who determined the tumor was encroaching on speech areas of the brain. Dr. Dickinson decided immediate surgery would be required to remove the tumor while protecting healthy brain tissue.
The date of Aaron's brain surgery also happened to be Dr. Dickinson's birthday. "Aaron's successful surgery was the best birthday present I could have received," says Dr. Dickinson." Our team performed exceptionally well, and we accomplished a gross total resection of the neoplasm without injury to the nearby eloquent areas of his brain."
One week after the surgery at Eden Medical Center to remove the brain tumor, Miller was transferred to a Sutter Health acute rehabilitation center in Oakland, Calif., where he began speech therapy and physical therapy to regain full ability to talk and walk unaided. Once he had recovered from the surgery through therapies, he underwent daily chemotherapy and radiation treatment for seven weeks.
Six weeks after the completion of the chemotherapy and radiation treatment, a follow-up MRI showed full removal of the cancerous tissue from Miller's brain, and no metastases in the spinal cord or other parts of the body.
"Dr. Dickinson had a skilled but lighthearted approach to my care that really made a difference during my recovery," says Aaron. "I'd rather stay positive than be continually worried, and Dr. Dickinson and his team made sure I felt supported, cared for and that I kept a positive mindset."
Bold Science Advancing Oncology Patient Care
CPMC's Research Institute leads an innovative program to further Sutter Health's cancer precision medicine research through the Cancer Avatar Project — an approach leveraging living biology, genomics, high-throughput pharmacologic screening (HTDS) of anticancer agents, and bio-informatics. Through this project, CPMC's Research Institute is among few institutions worldwide using a unique method to create personalized treatment plans for cancer patients.
Here's how: Researchers collect tumor and blood samples from consenting Sutter Health cancer patients. Tumor samples are grown in the lab and tested for response to various drug treatments, and sequenced for DNA/genomic analyses. A portion of the tumor samples are also used to develop patient-derived xenograft (PDX) mouse models — or mouse avatars — that mimic the original patient's tumor. This means the tumor samples can be continually used for additional drug treatment and genomic analysis, and included in a tumor bank for future Sutter cancer precision medicine research. Blood samples are used as a non-invasive liquid biopsy that evaluates the genomics of circulating tumor DNA derived from the patient's tumor.
Data from the Cancer Avatar Project will be used to predict patients' response to drug treatment and inform the development of new clinical trials, as well as a liquid biopsy test to monitor cancer progression and/or response to treatment.
"The Cancer Avatar Project has the potential to significantly accelerate individualized cancer care and provide evidence-based treatment recommendations for patients with highly malignant, advanced cancers," says CPMC Cancer Center Medical Director Mohammed Kashani-Sabet, M.D.
For more on research and clinical trials at Sutter Health, go to sutterhealth.org/research.