Cynthia Mendoza is comfortable with contradictions. The 40-year-old mother of three is shy with strangers but bold with family, friends and co-workers. Equal parts loyal and restless, she says being a medical assistant is the perfect job. No two days have been the same during her nearly 20 years of employment with the Palo Alto Medical Foundation.
When asked how she can exhibit seemingly opposing traits with equal finesse, Mendoza points to her identity as a Mexican American.
"I've always lived in two worlds," she says.
Her skill at integrating those worlds is perhaps most remarkable and something she's relied on repeatedly this past year while championing COVID vaccinations in her hometown of Watsonville, Calif.
"As someone who believes in the science behind the COVID-19 vaccines and has faith that we will overcome this virus, I have a unique perspective that I find resonates with people," she said. "I often say the vaccines are a modern miracle, because they were developed using the latest technology in answer to countless prayers."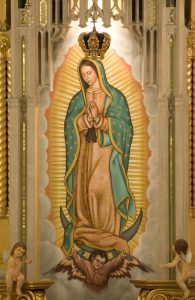 Mendoza has shared her scientific and spiritual convictions with her family, friends and her devout Mexican Catholic community since the vaccines were first made available to the public. She'll do so again this Sunday during Day of the Virgin of Guadalupe, also known as Our Lady of Guadalupe Day. It's a celebration of the brown-skinned icon of the Virgin Mary, often pictured surrounded by a sunburst mantle, hands folded in prayer.
"The Virgin Guadalupe is revered by Catholics around the globe, but she has transcended religion to become part of Mexican culture," says Mendoza. "She is known as a relatable saint, and is credited with ending epidemics, so she's especially inspiring to me."
Taking cues from the religious icon's lessons, Mendoza does her best to be relatable at work. She helps "room" patients and is often the first and last face a person sees during their medical appointment.
"I speak to patients in Spanish or English, whichever they prefer, and because I'm approachable I get asked a lot of questions about the vaccines," she says.
Mendoza uses these opportunities to address the rumors, doubts and fears that patients – many of whom are of Latin descent – still have about COVID-19 vaccination. Outside of work she does the same, going so far as to help family, friends and acquaintances book their COVID vaccine appointments.
A higher power that helps heal has always been a cornerstone of Mendoza's faith. By encouraging COVID vaccination she feels she's doing divine work, and she is when you consider that currently only 57% of the Hispanic population in California has received at least one dose of a COVID-19 vaccine.
"I'm both modest and proud of my role in helping my community build immunity to the coronavirus through vaccination," Mendoza said with a knowing smile.