Callie Cowart, a full-time board-certified music therapist at Sutter's California Pacific Medical Center (CPMC) in San Francisco uses music to heal.
Cowart recently offered her therapy sessions to an older patient undergoing care at CPMC's Mission Bernal Campus Acute Care for Elderly (ACE) unit. Cowart explains that the patient had many recurring hospitalizations over the span of four months this year.
"She and I worked together originally to use music to provide a competing stimulus to pain, which she unfortunately experienced a lot of during her time here," said Cowart.
A B-I-N-G-O Playlist to East Anxiety & Pain
As Cowart and the patient got to know each other, the patient would look forward to sessions with "her Callie" as an energy booster and motivator.
"One morning I read in the physical therapist's notes that prior to shelter-in-place this patient would frequent a local BINGO hall, but she's not been able attend since the start of the pandemic. Since I knew her favorite songs, I surprised her in our next session with a customized BINGO card with each square having a different song title," said Cowart.
To give the full effect, Cowart cut out strips of paper with the matching song titles, placed them in a bag, and used the strips as her BINGO balls that the patient could pull out. Once a BINGO "ball" was drawn, the two would sing and play together.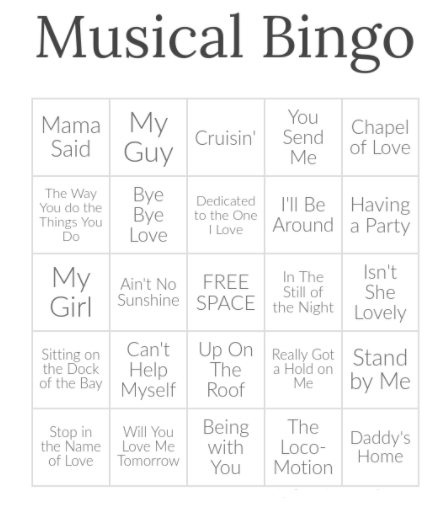 Music Therapy at CPMC
The Music Therapy Program at CPMC offers patients and their families the opportunity to receive therapy services from a board-certified music therapist, at no cost to the family. Music therapists are seen as an integrated part of the patient's multidisciplinary care team and work closely with doctors, nurses, child life specialists and other therapists as part of care for the patient's whole self.
The Sound of Music on Health
According to an article published on Harvard Health, a growing body of research attests that music therapy is more than a nice perk. It can improve medical outcomes and quality of life in a variety of ways.
For example, music therapy can help people who are recovering from a stroke or traumatic brain injury that has damaged the left-brain region responsible for speech. Because singing ability originates in the right side of the brain, people can work around the injury to the left side of their brain by first singing their thoughts and then gradually dropping the melody.
Sessions that Strike the Right Chords
Cowart says that the patient was an excellent handheld shaker player and developed a sort of fan club among the ACE unit staff for her spunky personality.
"She told me time and time again that this musical intervention gave her an increased sense of social support and mood/energy boosting during her hospitalizations at ACE because visitors had not been allowed in the hospital during COVID," shared Cowart.
"Having something and someone to look forward to in a place that can sometimes be scary or associated with negative memories and emotions can prove to be very important," she adds.
As for the patient, thankfully she has not had to return to the ACE unit and appears to be doing well, which is music to Cowart's ears.