Paul Bauer, a 79-year-old resident of Davis, Calif., was relaxing at home May 5 with his wife, Mary, when he suddenly fell and was unable to speak.
"When I saw the droop of his mouth and left side of his face, I immediately thought of stroke and called 911," says Mary Bauer, whose husband was rushed by ambulance to Sutter Davis Hospital.
Scans confirmed Paul was experiencing an acute ischemic stroke on the right side of his brain with a large clot obstructing blood flow. Dr. Abram Levine, an emergency room physician at Sutter Davis, recommended urgent treatment with a new drug known as TNK to dissolve the clot in Paul's brain, which helped prevent permanent brain damage. Then Paul was transferred to Sutter Medical Center, Sacramento for the clot removal by a procedure called thrombectomy.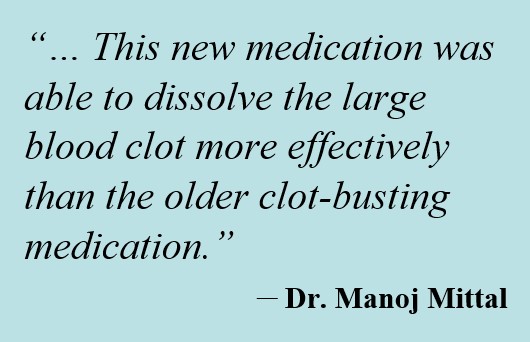 But the fast and effective work of TNK to dissolve the perilous clot made thrombectomy unnecessary. Within two hours of receiving the drug, no clots remained in Paul's brain and his speech and mobility began to improve. A subsequent MRI showed no residual effect of the large clot in Paul's brain.
"This man was saved from a life of persistent disability by the timely use of TNK," says Dr. Manoj Mittal, medical director of Stroke & Neurocritical Care for Sutter Valley Area. "Traditionally he would have needed thrombectomy, but this new medication was able to dissolve the large blood clot more effectively than the older clot-busting medication, rtPA."
TNK Is Now Used Throughout NorCal Health Network's Hospitals
Every second counts in detecting and treating stroke, the leading cause of serious, long-term disability in the United States. The clot-busting drug recombinant tissue plasminogen activator (alteplase, rtPA), which has been used for years, significantly helped doctors treat acute ischemic stroke that occurs when a vessel supplying blood to the brain is obstructed.
Now TNK, or tenecteplase, is being offered across Sutter's network of Northern California hospitals and is helping bring game-changing advances to reach stroke patients at the right time and place, including Paul.
"Mr. Bauer was diagnosed and treated within the critical 'golden hour' of stroke care with a drug that is easier to administer, more cost-effective, and allows for faster transfer times to higher levels of care for our highest-risk stroke patients," Dr. Mittal says. "We are proud to offer our patients a new, lifesaving treatment that exemplifies the power and impact of our coordinated approach to delivering high-quality, safe care — at the leading edge of innovation."
Paul was cared for overnight in the ICU at Sutter Medical Center and monitored for two days before being released from the hospital and sent home.
"I'm so grateful for the compassionate, expert care I received at Sutter," says Paul, a retired engineer, church musician, grandfather and ham radio operator. "Reflecting on the full and wonderful life in our Davis community, there are many more memories I now look even more forward to making with my friends and family here."