By Elisa Bosley, Vitals Contributor
Believe it or not, many Sutter patients and Olympic-level athletes have something in common: the drive to meet personal, physical goals.
This weekend, Sutter Health is proud to be the official medical provider for the 2023 Xfinity U.S. Gymnastics Championships, taking place Aug. 24-27 at SAP Center in San Jose. These games determine the national gymnastic champions, the penultimate step before athletes can earn a spot on Team USA for the 2024 Paris Olympics.
Fans will applaud the acrobatic, rhythmic and artistic displays — awed by elite athletes who make exacting movements look easy. But, while those jaw-dropping routines look, well, routine, they're only attainable after thousands of hours of training.
Here's the common thread: People undergoing physical therapy — and especially those in inpatient acute rehabilitation — and those gymnasts know what it is to apply every ounce of determination and physical effort to reach a personal victory.
National Recognition
At Sutter, you've got a great team on your side. This week, three Sutter facilities have been recognized by Newsweek and Statista as among America's Best Physical Rehabilitation Centers for 2023.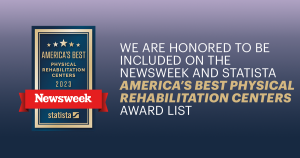 Named among the best of the best are:
This year's rankings honor only 280 centers nationwide, highlighting the top inpatient rehabilitation centers based on quality of care, service, follow-up care, accommodations and amenities.
Practice Makes Perfect
This weekend, when you watch competitors like Simone Biles — the most decorated gymnast of all time — perform with precision and flair, take a moment to appreciate that her fluidlike motions, executed once in competition, took years of painstaking practice to perfect.
Each element, from a tumble to a twist, involves focus and determination to isolate minute muscle movements, sometimes without being able to see or even feel the goal before it's accomplished. In some ways it's similar to rehab after a stroke, car accident or other unexpected event. Achieving or regaining skills takes stamina and endurance, often long before new or renewed ability kicks in.
Like an Olympic coaching staff, Sutter therapists and rehab specialists are dedicated to helping people achieve their best, whether that's as complex as riding a bike or as ordinary as tying shoes. As personal coaches and trainers, Sutter staff customize education, hands-on techniques and exercises to help people regain strength and mobility so they can return to regular life with confidence.
"Every rehab patient is individual," says Beth Whalen, manager of rehabilitation program administration at Sutter CPMC's California Pacific Regional Rehabilitation Center. "There is no predetermined routine. Each person's unique goals and expectations are fundamental to their program development."
Simple Is Spectacular
There isn't often a medal when you recover from a serious health event, and no podium either. "In physical medicine and rehab, and especially acute care, attaining the goals that are defined by the patient and family and getting a person back into the community in a meaningful way is what we would describe as a win," says Whalen. "No two wins look the same."
There's no denying that the road can be long and hard, and some goals may prove unrealistic considering specific physical limits. But success takes on new definitions.
"Sometimes a patient doesn't really recognize their victories until they get home," says Whalen. "Our therapist do everything in their power to help the patient become as functionally independent as possible. So a person might perceive leaving the rehab center in a wheelchair as a fail, but once they get home and recognize what they can do for themselves, even from that wheelchair, it's a triumph."