Not-for-profit partners like Sutter Health invest in food banks' efforts to help expand reach
The importance of food banks has mushroomed since the onset of COVID-19. Feeding America estimates that more than 53 million people turned to food programs in 2021, one-third more than prior to the pandemic. And with growing inflation—which is causing price hikes in everything from groceries to gas—more families are seeking charitable food for the first time.
But the value of food banks goes beyond providing common foodstuffs. Northern California food banks and pantries are offering unexpected and surprising benefits to those in need.
Baby Formula?!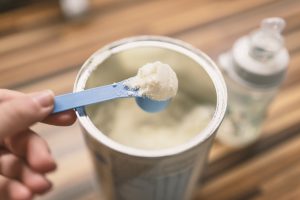 Ask anyone what item they think of first from a food bank. They may respond with a shelf-stable item like peanut butter, canned vegetables or boxed macaroni and cheese. While these items are important pantry staples, Northern California food banks can offer much more, including nutritious fresh fruit and vegetables, and even baby formula when available.
Marie Jachino is the executive director of Elk Grove Food Bank. The organization has offered baby formula for years thanks to donations from the public—even during the recent shortage. She says there is a lot of surprise and delight when families see baby formula is available. It can be an essential food item for infants with very specific dietary needs, she explained. It can also be especially helpful for mothers who are unable to breastfeed due to medical complications.
"They may come in frustrated, thinking 'If you can't help me, where am I supposed to go,' she said. "But once they learn it is available, their reactions are just over-the-top grateful."
A Place of Belonging
Anna Vostrikova and Alex Klokunov have endured a journey like no other. They fled their native Russia in March 2022. They darted across countries—from Istanbul to the Netherlands and then to Mexico—seeking safety for themselves and their young daughter. While enroute to California, where close friends of theirs were located, their journey abruptly stopped. They had been detained and arrested in Mexico. After two days in jail, they were set free once their refugee status was confirmed. They finally made it to Sacramento—weary yet relieved. However, they faced new challenges. How could they sustain themselves in this new location? That is where River City Food Bank came in to help.
The family's friends first introduced them to how food banks worked. Neither Vostrikova nor Klokunov had seen anything like it before: a variety of fresh and healthy food options all accessible at no cost.
"In Russia such thing, it doesn't exist. You cannot get free food," Klokunov said.
"We couldn't believe that we really can take whatever we can," Vostrikova added.
The family had a full fridge and full hearts. The couple found themselves going several times a week to River City Food Bank. Their visits were not only for sustenance, but also for friendship. In their growing gratitude, they decided to volunteer at the food bank as well. They are now helping others in the same way they had been helped only months before.
When asked what his favorite item is to get from the food bank, Klokunov responded: "emotions."
"Right now, it is not about the food, not about the goods. But what you feel, you help somebody," he said.
An Expanding Reach
Food banks are often part of vast networks that help further expand their support. Take for example the Food Bank of Contra Costa and Solano. It works with more than 260 nonprofit agency partners throughout the area, including Rebuilding Together Solano County. RTSC helps low-income, elderly, disabled and veteran homeowners. One service RTSC started during the pandemic was delivering free weekly groceries to hundreds of people who were sheltering in place, using food supplied by the Food Bank.
Vallejo residents Paul and Wanda Ball were two of those seniors benefitting from RTSC's service. Paul, who is 95, and Wanda, who is 86, were active volunteers in their community until the pandemic forced them to hunker down at home for safety.
"I don't know what we would have done because with our ages I was scared to get out with a group of people or do anything at all. My immune system isn't as strong as it was," said Paul, a World War II and Korean War veteran who served in both the Navy and Army.
And just as food banks partner with smaller charities, they also rely on the support of larger community-oriented organizations. Not-for-profit Sutter Health has invested in area food banks for years as part of its commitment to Northern California communities. Its annual investment to support food banks aligns with priority areas identified in tri-annual community health needs assessments. A key focus area of many local community assessments is active living, healthy eating and reducing food insecurity. This year, Sutter Health is supporting 30 food banks across Northern California, and some regions in Oregon and Hawaii, with a combined donation of $310,000.
"Sutter Health is dedicated to improving the health of communities, which goes beyond treating illness; it includes helping keep people healthy. That can start with basic needs like improved nutrition," said Grace Davis, chief public affairs officer for Sutter Health. "We know that building and sustaining strong, healthy communities begins with putting wholesome food on the table."
Inspired to Help?
Visit the California Association of Food Banks to learn more about volunteer opportunities at local food banks.