By Marika Rose, Vitals contributor
When a teenager in Rocklin, Calif., suddenly couldn't remember how to play the piano — a remarkable talent he had honed since the age of 5 — his mother immediately knew something was wrong. Evan Hines' ability to expertly play music, including themes from video games he had heard only once or twice, is a gift he shared regularly with audiences at his church and at a local restaurant gig.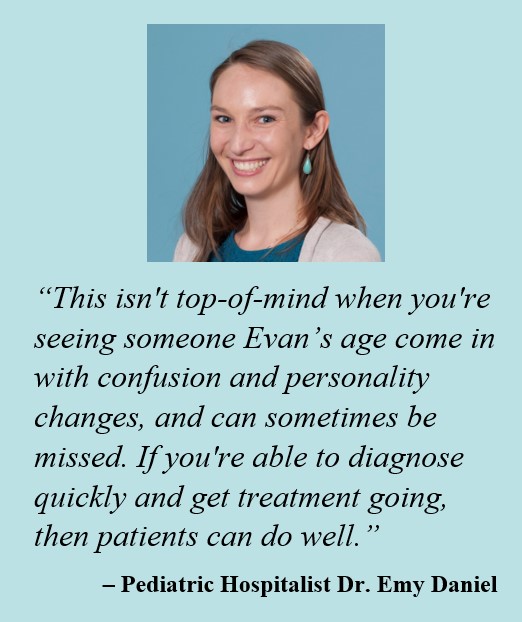 "Evan wasn't acting himself," recalled his mother, Sueann Hines. Because he was behaving uncharacteristically frustrated and combative, she said, "I wasn't sure if he was having a mental health crisis."
Evan, 15, had suddenly lost much of his memory, including of his dad's birthday lunch at a sushi restaurant days earlier. When he sat down to practice piano, he says he remembers feeling "like I had never played in my entire life."
Sueann rushed Evan to the emergency room at Sutter Roseville Medical Center, and he was then taken to the Sutter Medical Center, Sacramento Children's Center on March 1 under the care of a team of pediatric specialists. Although a diagnosis wasn't immediately clear, Dr. Emy Daniel, a Sutter pediatric physician and hospitalist, knew something wasn't right as Evan exhibited confusion and what his family described as a sudden and drastic personality change.
After a series of tests including brain imaging and a spinal tap, Evan was diagnosed with a rare varicella virus that can cause encephalitis, a life-threatening inflammation of the brain.
"This isn't top-of-mind when you're seeing someone Evan's age come in with confusion and personality changes, and can sometimes be missed," said Dr. Daniel. "If you're able to diagnose quickly and get treatment going, then patients can do well."
Thanks to everyone's quick action, Evan did indeed do well. Within days of observation and anti-viral treatments, his outgoing personality began to reemerge. He even displayed his piano talents when, after eight days of being in isolation in the pediatric intensive care unit, the hospital's music therapy team got him a portable keyboard and he played for his care team. Within a couple of weeks, he was back to playing the piano at Rubino's Ristorante in Rocklin and enjoying his usual activities.
As a way to thank the medical community at Sutter Children's Hospital and entertain other pediatric patients, Evan and his mom made a visit to Sophie's Place — a stylized music therapy space where patients and their families can take a break from the sometimes stressful and monotonous environment of their hospital room. Evan played and sang for the young patients and hospital staff, with local TV stations on hand to share Evan's story.
The illuminated sign above the door of Sophie's Place reads "Shine On," which describes Evan's miraculous recovery.
For more on Evan's visit to Sophie's Place and to hear some of his masterful piano chops, check out this Instagram post, this KCRA-NBC-3 story and the "Inside Edition" coverage on MSN.

For more on Sophie's Place at the Sutter Medical Center Children's Center, click here.