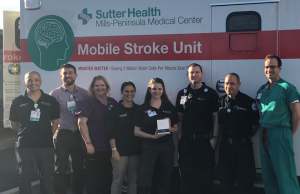 The Sutter Health Mobile Stroke Unit team got the call they had been preparing for and raced into action.
It was a Tuesday in January like any other, until it wasn't. Claudia, a 72-year old resident of San Mateo, had been sitting on her porch and when she went to stand up she discovered she was weak in her left arm and leg, so weak that she collapsed. A neighbor saw her fall and called 911 fearing that Claudia had sustained a head injury.
When the Mobile Stroke Unit arrived, Claudia was slurring her speech. "I remember I tried to talk to the paramedics and it was like my tongue was too thick to pronounce anything," she said. The Mobile Stroke Unit is a specially-equipped ambulance with a CT scanner inside which is critical for diagnosing stroke. There are two types of stroke—ischemic (clotting) and hemorrhagic (bleeding).
In a matter of minutes Claudia was diagnosed with an ischemic (clotting) stroke; in the days that followed Claudia learned that a blood clot had formed in her heart and had traveled up to the right side of her brain, blocking one of her major arteries there, causing her symptoms.
Claudia was given a clot-dissolving IV drug called a tissue plasminogen activator (tPA) in the Mobile Stroke Unit on the way to the emergency room at the Sutter Mills-Peninsula Medical Center, shaving precious minutes off the time it would normally take to start treatment. "When I woke up in the hospital bed and heard that I'd had a stroke I braced for the worst – I thought I might be paralyzed on my left side after this," remembers Claudia. "But that very same night I could already squeeze my husband's hand" — the small act was a huge relief for Claudia who's mother had also had a stroke and was never the same after.
Claudia left the hospital with no neurologic deficits and sums up her experience as "what could have been isn't" – referring to the long-term disability associated with a stroke that isn't treated quickly enough. Claudia calls the Mobile Stroke Unit the "height of medicine" and says she feels so normal that she has to remind herself that she just had a stroke and should take it easy for a few days.
The timing of Claudia's stroke, days before the national cardiovascular health awareness day Go Red for Women on Feb. 1, served as a powerful reminder that stroke and heart disease are linked and are not just problems for men. "More women have strokes annually than men, and stroke is the third leading cause of death in women," says Ilana Spokoyny, M.D., clinical and research director for the Mobile Stroke Unit. "The importance of knowing the signs and symptoms of stroke and calling 911 cannot be emphasized enough, our first patient's success story shows just how important community awareness of stroke really is!"
Signs of stroke often go undetected causing delays in calling 911. The National Stroke Association recommends the everyone learnt to Act F.A.S.T. when someone isn't acting like themselves. F.A.S.T. stands for:
Face—Does one side of the face droop when the person smiles?
Arms—When the person raises both arms, does one drift downward?
Speech—Does the person slur words or sound strange when asked to repeat a simple phrase?
Time—Call 911 immediately if you see any of these warning signs of stroke.
Increasing awareness of stroke is critical to ensure women get the right preventative care to help avoid heart disease and stroke, as well as receive quick treatment when a stroke does occur. "I'm so proud that our first tPA patient is a woman who has offered to share her story and hopefully increase community awareness of the signs of stroke," says neurologist Nobl Barazangi, M.D., Ph.D., director of the Stroke/Neurocritical Care Research and Education Program at Sutter's California Pacific Medical Center. "She is living proof stroke can be treated—now even more quickly with the Mobile Stroke Unit."