First-year residents are settling into the rhythm of patient rounds at Sutter's California Pacific Medical Center this summer.
"It's like any new job. You're excited but there's also some butterflies," says Maggie So, M.D., a hospitalist at CPMC and director of the hospital's Internal Medicine Residency Program.
Known as a bustling medical center in San Francisco, CPMC's busyness is its greatest selling point for perspective students and young physicians.
"Our program offers an incredibly rich learning environment," says Dr. So.
The hospital's three campuses boast robust transplant services (liver, kidney and heart), advanced interventional radiology and cardiology, a major stroke center and one of the top hospitalist services on the West Coast. It is also home to a highly regarded Research Institute.
Another selling point: the San Francisco Bay Area's diverse population, both culturally and socioeconomically. In the nine-county Bay Area region, 59% are people of color, with Asians or Pacific Islanders and Latinos making up a growing share of the total population, accounting for 25% and 23%, respectively.
"Given our large catchment area and CPMC's designation as a quaternary referral center, we see a great breadth of cases, from common to unique diseases. This is a huge plus for those looking to work in a dynamic urban hospital setting," says Dr. So.
Eric Huang, M.D., agrees.
"CPMC has exceeded my expectations in what I was looking for in a residency program, namely the wide breadth of pathology, close-knit culture of my co-residents and attendings, and the culturally diverse communities and amenities that San Francisco has to offer," says Dr. Huang, who is a second-year resident from Cupertino, Calif.
Ginny Bao, M.D., one of CPMC's current chief residents from Troy, Mich., says, "CPMC residents also have an advantage of caring for patients who speak a variety of languages, including Cantonese, Russian and Tagalog."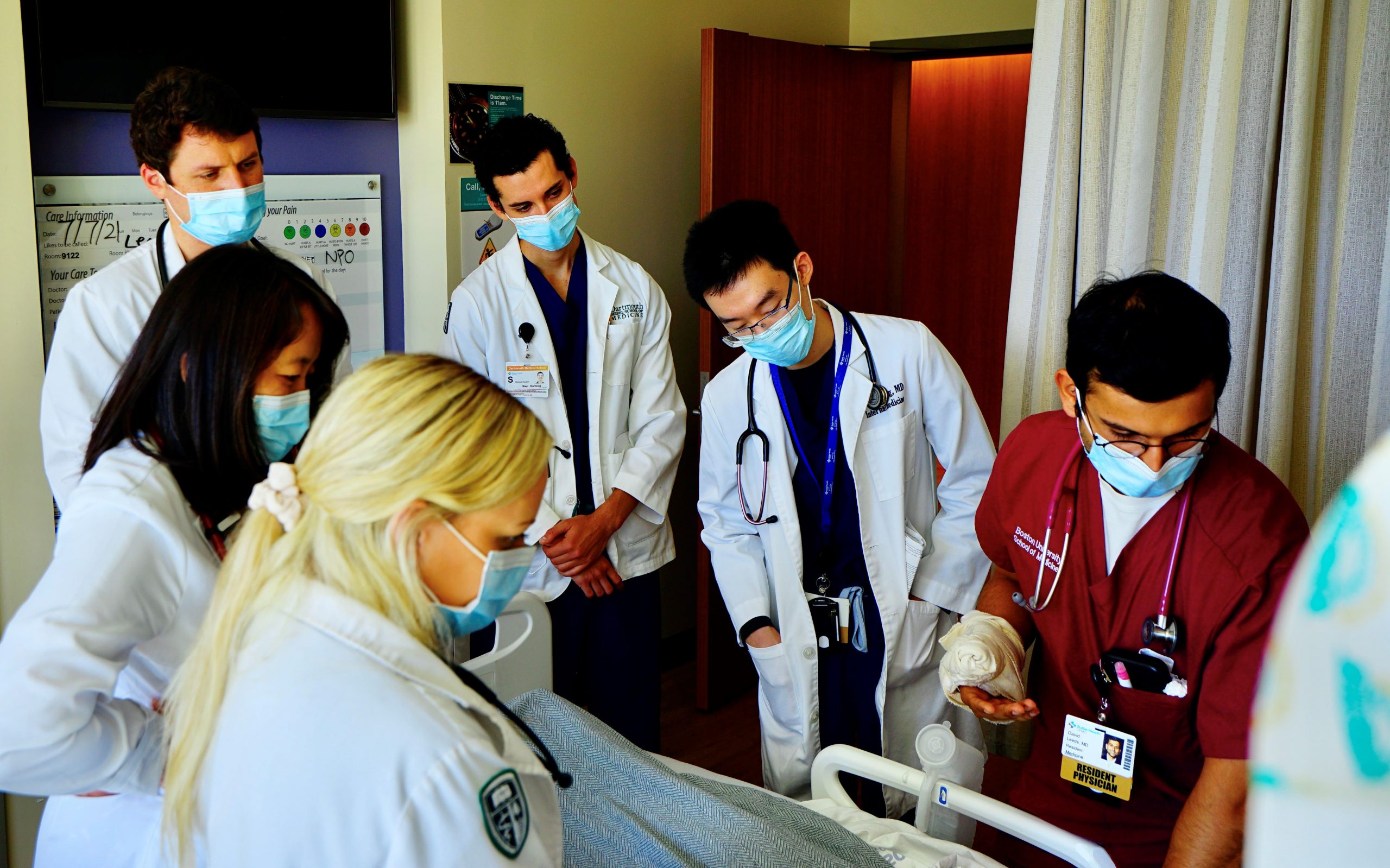 Patient rounds
Patient rounds are one of the first enterprises residents get acquainted with on the job.
"It's a highly interactive process and ideal for mentorship. Rounding is the most important educational tool physicians have to develop their skills and confidence as care providers," says Dr. So.
Rounding works in two parts.
Patient cases are presented by residents in a round-robin-style format, with multiple medical disciplines joining in. For example, it's typical a nurse, social worker and respiratory therapist will also take part.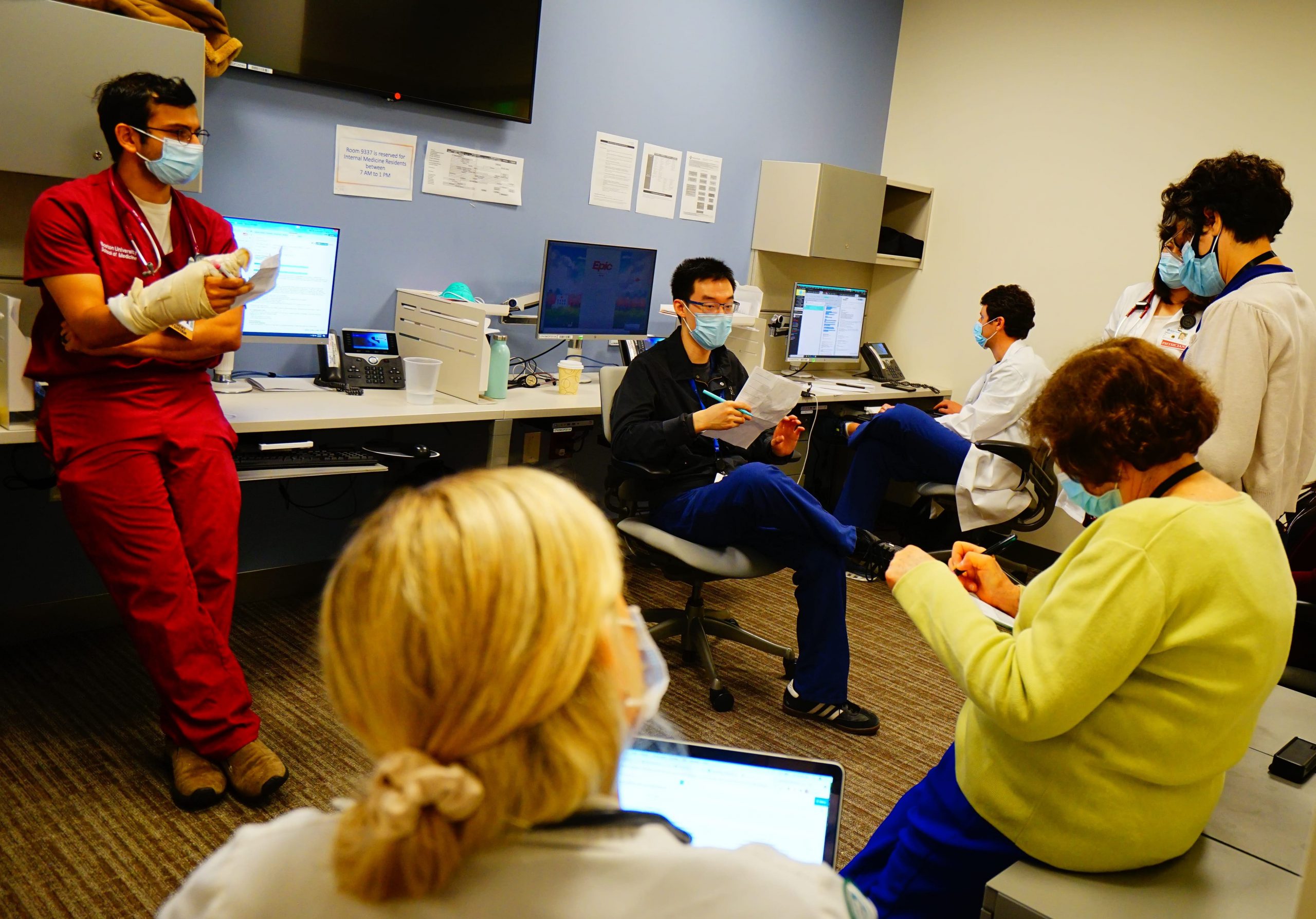 "This team approach helps ensure coordinated care delivery," says Dr. So, who notes that an attending physician, like herself, leads or facilitates the rounds.
Next, the team "puts eyes" on their patients. Once at the bedside, the resident helping to oversee the patient's care will ask how he or she is feeling, what changes in pain or discomfort they may be having, and the resident will discuss any treatments or care plans for the day.
"During rounds, residents are able to practice independent decision-making and take lead of the patient's care, with the back-up support of a more experienced attending physician. This fosters a nurturing and team-centered learning environment," says Dr. Bao.
Rounding benefits patients, too.
At a teaching hospital, residents work in concert with the attending or senior physician and the provider team. Additionally, residents don't have the same time constraints as staff physicians and can spend more time thinking about their care.
"Patients get the added benefit of several doctors weighing in so that all possibilities of treatment and care can be considered," says Dr. So.
There's data to support this. According to a 2017 study published in the Journal of the American Medical Association (JAMA), patients at major teaching hospitals often have lower mortality rates and better health outcomes than at nonteaching hospitals.
Dr. So notes that the majority of patients welcome resident care, and they are grateful to be able to contribute to the training of the next generation of physicians.