By Melissa Fuson, Vitals contributor
Retired Air Force Chief Master Sgt. Dave Johnson joined the military in 1962 as a 19-year-old enlisted airman. Over the course of his 23-year career, Dave and his wife, Ampai, raised their three children on Air Force bases in Kansas, Indiana, Washington, D.C., Germany, Spain and Thailand. They didn't spend more than three years in one place.
"The most difficult part about it was the stress on the family, moving kids out of schools they liked and from friendships they had made. Even the dog had to learn to adjust," Johnson said. "Still, what was difficult at the time has turned into some great memories."
The Johnsons moved back to his native Northern California in 2008, settling into a quiet retirement in Yuba City. The one thing that punctuated the couple's peace was the raspy, gasping racket of Dave's nightly snoring.
"It got so bad we had to sleep in separate rooms," Johnson says.
He got fitted for a CPAP and later a BiPAP, a lunchbox-sized breathing machine that blows air through a tube into a face mask. The machine helped Johnson sleep—to a point. But he continued to experience restless nights and often woke exhausted.
Ampai died in 2019, just shy of their 50th wedding anniversary. Johnson regularly drove 45 miles from his home in Yuba City to the Sacramento Valley National Cemetery to visit her gravesite. Soon, though, he realized making the drive was just too risky. He was so tired he'd briefly fall asleep at the wheel during the drive.
"I was drinking coffee, but still feeling very drowsy," Johnson says. "I didn't want to take any more chances."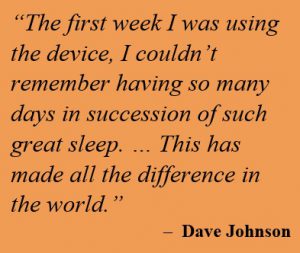 A sleep study in early 2021 revealed Johnson's sleep was interrupted about 30 times a night. A clinician at the sleep center suggested he might be a good candidate for Inspire sleep apnea treatment—a small device inserted under the skin in the upper chest area that stimulates muscles of the tongue and throat, effectively opening a patient's airway and allowing for normal breathing during sleep.
In August, Johnson went to Dr. Howard Nam, an Ear, Nose and Throat specialist at Sutter North Surgery and Endoscopy Center, for the outpatient procedure. About a month later, he returned to Dr. Nam's office to ensure his wound had healed properly and the device could be activated. Once activated, Johnson began using a remote-control device to turn it on before bed each night.
"This device does away with the hassle of the hose, mask and machine of a CPAP or Bi-PAP," Dr. Nam says. "The battery pack is designed to last about seven to 10 years, much like a pacemaker."
Today, Johnson is back to volunteering for Beale Air Force Base, providing benefits information and support to local retirees and their families. And he's back to visiting Ampai's gravesite regularly.
"The first week I was using the device, I couldn't remember having so many days in succession of such great sleep. It was such a remarkable change," Johnson says. "I have no hesitation making the drive now. This has made all the difference in the world."