Gisel Preciado knows firsthand how having doctors and nurses who speak the same language and come from the same culture can improve a person's health. Since middle school, she helped her Spanish-speaking grandmother manage her diabetes, accompanying her to doctor and emergency room visits. She realized her grandmother's health improved upon finding a doctor who understood Spanish and could attend to her specific needs.
For this reason, Preciado is now pursuing a nursing career.
"Having family members with hereditary and chronic illnesses, I've seen how the Hispanic community lacks representation in healthcare," Preciado said, "and I hope to help change that."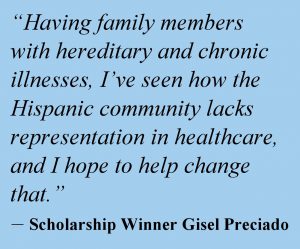 The Merritt Community College freshman is one of the first students to receive scholarships from a unique program aimed at enhancing diversity among healthcare workers. Sutter Scholarship for Success awarded $2,500 scholarships to four college students who are seeking careers in healthcare fields.
Research shows that a diverse healthcare workforce benefits physicians, care staff and especially patients. Along with fostering better communication among all parties, diversity enhances providers' ability to understand and identify with patients of similar backgrounds, helping them to deliver more culturally competent care.
"Unfortunately, the makeup of healthcare providers in the Bay Area does not always match the populations we serve," says Dr. Ricci Sylla, an OB-GYN for Sutter East Bay Medical Foundation.
In 2020, Dr. Sylla and other physicians convened an antiracism working group, which included a subcommittee to enhance diversity among healthcare workers. The subcommittee's goal is to find new ways to support underrepresented groups in medicine and expand the pipeline for future healthcare careers.
Thanks to generous community donations through Sutter Health's philanthropy department, the group launched Sutter Scholarship for Success.
"I'm so excited and relieved to receive this scholarship, and I'm grateful the committee saw something in me that was worth investing in," Preciado says.
Preciado graduated from the Health Academy at Oakland Technical High School and began an associate's degree in nursing last fall. Born and raised in East Oakland, her parents immigrated to the United States as teenagers. Knowing they've worked hard to provide opportunities for her, she is eager to make a difference for her family and community. Ultimately, she hopes to work as a labor and delivery nurse or a midwife to empower women through childbirth.
Here are the other three recipients of the inaugural scholarships:
Edinna Obaseki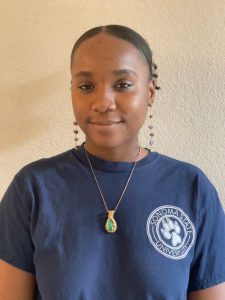 Edinna Obaseki is double majoring in biology and women's gender studies and sexuality at Sonoma State University. Her desire for a career in medicine is driven by the inequitable delivery of healthcare to minorities and other marginalized communities. Edinna is especially motivated to help Black mothers, who suffer disproportionately through pregnancy and childbirth, with higher mortality rates for both mothers and infants.
Throughout high school and into college, Edinna has volunteered with People's Programs Oakland, training to be a health navigator at free clinics and distributing food and clothing to the city's underserved weekly. She is a member of the Black Student Union at Sonoma State and has taken service trips through the Deva Soul Journeys program and the Haiti Health Initiative, part of the Global Health Initiative.
"I was beyond ecstatic when I found out I got this award," Edinna shares. "Coincidentally, I signed up for a winter intersession class that cost extra tuition, and I was a bit worried how that would impact my overall budgeting for school. This is a big relief."
Yessy Vega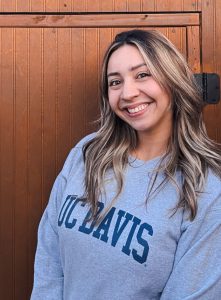 Throughout her 10 years working as a medical assistant, Yessy Vega's colleagues have encouraged her to never give up, stay disciplined and continue her education to become a physician. Now, after receiving her associate's degree from Los Medanos Community College, she will transfer to the University of California, Davis this fall to major in biology.
"As a teen mom, I've had to work hard and navigate many obstacles to succeed, including graduating high school on time, balancing my life between parenting, being a wife, working full-time while attending college, and becoming one of the first in my family to pursue an advanced degree," Vega says. "I'm so grateful to Sutter for supporting me along my journey, and I feel very honored to have received this scholarship."
Vega lives in Newman, Calif., waking up before dawn to take her son to school and then commute to work in Brentwood. During the pandemic, she had a front-row seat to the challenges patients were facing. Having lost her own father to COVID-19, she turned her grief into action, encouraging people to get vaccinated and tested. These recent experiences further fueled her desire to finish her degree at UC  Davis and ultimately pursue medical school.
Destiny Williams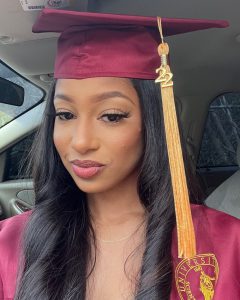 An alumna of Skyline High School in Oakland, Destiny Williams is in her final year of nursing school at Tuskegee University in Alabama, where she is part of the nursing sorority Chi Eta Phi. Williams learned about the scholarship while interning with the Mentoring in Medicine & Science program at Alta Bates Summit Medical Center, which exposed her to the wide array of career possibilities in healthcare.
"Seeing so many paths to build a career in healthcare gave me confidence and excitement to pursue nursing," Williams says. "As a first-generation college student, it is a thrill and a relief to receive this scholarship. I look forward to returning to Oakland to serve my community after graduation."
Williams hopes to work as a nurse for a few years before pursuing an advanced dual degree as a women's health nurse practitioner and a certified nurse midwife. Passionate about providing quality healthcare to underserved communities, she is concentrating on midwifery because of the profound health equity gaps in maternal care and services for Black women. She looks forward to working within the community to provide patients with a familiar face, someone they can relate to.
Williams currently works as a home health aide in a nonmedical position centered around companionship, cognitive supervision and housekeeping for elderly patients and those with mental and physical disabilities. She has also served as a student nurse administering COVID-19 vaccinations and educating community members about healthy life skills.