Travis Barber was feeling lucky. Less than an hour before, he had been discharged from a rehabilitation hospital a month after suffering a critical brain injury caused by a gunshot and pistol-whipping. He still had only half his skull; the other half was removed to relieve pressure in the brain. So, he had on a huge protective helmet … and his hospital wristband, to boot.
But, there he was at a poker table at the Hard Rock Casino near Yuba City, betting a couple of hundred bucks. And winning.
"I should've bet more," he says.
His physician, Dr. Adora Matthews, a physiatrist who specializes in neuro and spinal cord rehabilitation, just shakes her head when she hears this for the first time several months later.
"That level of multi-sensory stimulation — plus the noise and smoke — might have been too much for some patients after an injury like his," says Dr. Matthews, medical director of Sutter Rehabilitation Center in Roseville, where Barber spent two weeks. "But he seems to have handled it fine."
That luck was on Barber's side is an understatement.
Barber, 35, was defending his family and a friend in Lakehead, Calif., in April 2021, when a confrontation was sparked by racist comments directed at his friend, who is Black, according to a Shasta County sheriff's report. Barber suffered four gunshots and the blow to the head, as well as other injuries. He was taken to the nearest trauma center, Mercy Medical Center in Redding, and his then-girlfriend, Daisha, was told to expect the worst.
"The first night I was told that he probably wasn't going to make it, and that I had to say my goodbyes," Daisha says.
A week later, he was still very much alive but in a medically induced coma. The doctors then told Daisha that Travis probably wouldn't be able to walk or talk again.
"He's probably going to be a vegetable," Daisha says the doctors told her. "Are you prepared for this?"
'A Miracle from the First Day'
After spending 15 days in the Redding hospital, Travis recovered enough to be transferred for specialized, acute rehabilitation. They had choices across the country of facilities that had the expertise to handle such a critical case, and the only one in California was two hours down the road at the Sutter Rehabilitation Institute in Roseville.
Connected to Sutter Roseville Medical Center, Sutter Rehabilitation Institute is a 55-bed acute rehabilitation facility that has a dedicated 10-bed unit for brain-injury patients. The Institute has the most rehab specialty certifications of any center in California from the Committee on Accreditation of Rehabilitation Facilities, with one of those certifications for traumatic brain injury.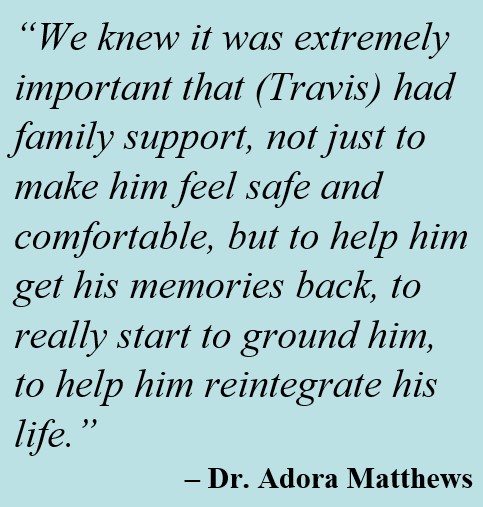 When Travis arrived at Sutter Rehabilitation Institute, Dr. Matthews said his balance was impaired, he had decreased endurance, and he could talk but had difficulty finding words and had mild cognitive deficits.
When he left Mercy Medical Center, Daisha said, "He didn't even really know his name. … So we've had a long road."
That road was made shorter in part because, even though there were COVID restrictions at the time, the Sutter rehab facility allowed Daisha to stay and help with his care and let him have other visitors, including longtime friends, family and even their dog, Cookie.
"Sutter really accommodated us," Travis said, "especially allowing Daisha to stay with me to make sure my health was being taken care of the way we wanted."
"Travis was a miracle person from the very beginning," Dr. Matthews said. "We knew it was extremely important that he had family support, not just to make him feel safe and comfortable, but to help him get his memories back, and to really start to ground him, to help him reintegrate his life. The therapists loved working with him because he was always super cooperative, even when he didn't feel like it physically."
'Those Insights Are Really Important'
Dr. Matthews said Daisha was an excellent advocate for him and gave insights into what Travis was like before the injuries, what his home and work lives were like, and the activities he enjoyed.
"Those insights are really important in order to get a person back to their life," Dr. Matthews said.
Travis needed a full spectrum of therapies in order to get back to that level, she said, including physical therapy for general strength, balance, getting up and walking again; occupational therapy for upper-body strength, getting dressed, getting bathed; and speech therapy for memory, speech and safe swallowing.
Being in the dedicated brain injury unit also helped Travis recover more quickly because it's separated from the rest of the rehab facility and has its own gym and cafeteria.
"We want to make sure those patients don't have too much stimulation," Dr. Matthews says. "Travis was on that unit so he wouldn't be inundated with too much noise, too much activity and too much light."
Dr. Matthews said, before Travis even arrived at the hospital, she felt he would be at Sutter Rehabilitation Institute for six weeks due to all his injuries and their severity. He was out in just two weeks.
Daisha remembers when Travis was using the Sutter Rehabilitation Institute's Exoskeleton, which helps a rehab patient regain balance and mobility, "and he's there kicking a soccer ball after just a few weeks and how quick he was with his mobility. It was just remarkable," she said. "Obviously, we can't be thankful enough."
'It Took a Gunshot to the Head'
Before the shooting, Daisha and Travis had been together for almost five years but put off marriage. Did the pistol knock some sense into him?
"I always say, it took a gunshot to the head for him to propose," Daisha says.
They married on Oct. 22, 2021, and live in the Redding area with her daughter, Kayleann, who was also a witness to the shooting attack and considers her step-father her hero. Travis continues to work at his longtime employment, Bare Roots, a hydroponic nursery supplier in Redding.
He admits he is not 100% and says he probably never will be. He sometimes stumbles with his speech and becomes very fatigued, he says. His biggest problem, however, isn't neurological. It's his right hand, where he was shot above the wrist. He says he has less than 50% strength and still can't grip items well, making it especially tough being right-handed. He's now able to sign his name again, but still can't use chopsticks.
"This hand saved my life," Daisha says, holding up his scarred right hand. "The fact that the man was attacking our friend and he jumped in and saved all of our lives, Travis is a hero."
His skull was replaced a few months after he left Sutter Rehabilitation Institute, and Daisha has to push aside his hair in back to show the scar left by the pistol-whipping he received. Another scar just above his ear is visible even with the thick hair, but it just adds a little character.
Daisha talks about how, before the incident, Travis was very quick-witted with a great sense of humor. And now? "He's still the same guy," she says, happily. "He is one lucky man."
For more coverage of Travis' miraculous recovery, go to The Sacramento Bee, Yahoo! News and KRCR-TV.