Jazlyn Lara, a joyful 5-year-old in Sacramento, wants to be a pediatrician when she grows up. She expressed this dream to her parents even before being diagnosed in June 2020 with B-cell acute lymphocytic leukemia — a type of blood cancer also called B-ALL that starts in the bone marrow.
At the start of the COVID-19 pandemic, Jazlyn's mom, Mayra Lara, became increasingly concerned as she noticed a variety of sporadic yet progressively urgent symptoms affecting her daughter. At age 2, the toddler was experiencing high fevers, nosebleeds, aching legs and bloodshot eyes. An initial visit to the emergency room at Sutter Medical Center, Sacramento revealed abnormal blood tests. Following a consultation with a specialist and a bone marrow biopsy, Jazlyn was diagnosed with B-ALL.
"I knew something was wrong," recalls Mayra. "With no family history of cancer, my husband and I were completely shaken by this diagnosis. It's something no child should ever have to endure."
When Jazlyn's treatment was started at the Sutter Medical Center Children's Center, she was given multiple transfusions of blood products containing the red blood cells and platelets needed to support her bone marrow. Her doctors also began giving the toddler the first phase of leukemia treatment (called "induction therapy") with chemotherapy. The goal of this induction therapy is to kill as many leukemia cells as possible so that normal blood cells can begin growing again.
During this phase of treatment, Jazlyn's doctors offered her participation in a clinical trial related to her diagnosis. Sponsored by Children's Oncology Group, the Phase 3 clinical trial seeks to help researchers collect information about leukemia, as well as patients' response to treatment with investigational medications for the illness.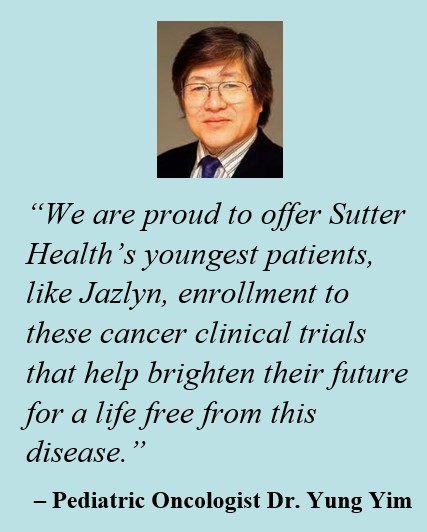 One of these medications is blinatumomab, a type of monoclonal antibody designed to help the body's immune system track down and eliminate cancer cells. The clinical trial was designed to study how well blinatumomab works in children to stop the progression of cancer compared to standard-of-care chemotherapy alone.
"When given in combination with chemotherapy drugs – which help kill cancerous cells, stop them from dividing or stop them from spreading – blinatumomab may work better than combination chemotherapy alone in treating patients with B-ALL," says Sutter pediatric oncologist Dr. Yung Yim.  "Clinical trials such as this one testing a monoclonal antibody can give us important information about a drug's effectiveness and safety, and its potential impact in improving standard of care. We are proud to offer Sutter Health's youngest patients, like Jazlyn, enrollment to these cancer clinical trials that help brighten their future for a life free from this disease."
As part of the clinical trial, Jazlyn was one of the study participants who received chemotherapy alone and did not receive any non-standard treatment interventions. She responded well to chemotherapy and is now in remission after more than two years of study treatment. She will be monitored closely over the next several years to help her remain cancer-free.
Information about Jazlyn's response to the study treatment will be compared with information from other participants who may or may not have received blinatumomab, and used to help researchers determine the drug's effectiveness and safety.
Mayra smiles when she now describes how Jazlyn has been enjoying school and activities she loves like coloring and singing.
As for her daughter's future career aspirations to be a doctor, Mayra says, "Jazlyn's future is now wide open. For that, I am deeply grateful for the compassionate care and leading-edge research at Sutter. By enrolling Jazlyn in the clinical trial, we have the opportunity to give her a better life as well as kids like her who may need innovative cancer treatment in the future."
Find out more about clinical trials available through Sutter Health. Click here.