SACRAMENTO, Calif. — Sutter Health was named a Healthcare System Industry Leader in Reputation's "2023 Healthcare Reputation Report," released earlier this week. The report ranks the top 30 U.S. healthcare systems based on online patient sentiment. Sutter Health placed fifth on the list, and first among California-based health systems, signifying its status as a leader in positive patient reviews.
Individual Sutter doctors and care centers were also recognized for earning top-notch patient praise. Sixteen care centers and 13 physicians achieved a reputation score of 800 or higher, demonstrating better customer satisfaction compared to the industry average score of 428.
"As we move forward with a focus on meeting our patients' modern consumer expectations, we consider the entire connected ecosystem as part of the patient experience we deliver," said Jennifer Bollinger, Sutter Health senior vice president and chief consumer & brand officer. "Understanding our patients' perspectives before, after and in between encounters with us is a focus as we look to shape the future of healthcare."
Prior research has shown a strong link between online reviews and higher quality healthcare, making patient sentiment an increasingly important metric. The expansion of telehealth has also put the digital customer experience on par with a person's in-person health visits and has led more patients to expect that healthcare organizations will engage with them online.
As a system Sutter scored in the 97th percentile in engagement. This score highlights the dedicated work of Sutter's social care team to monitor comments and respond to patients across channels.
Sutter's physicians and care center staff are equally committed to putting patients first, by listening to and acting on their comments. This commitment is reflected in the reputation scores they earn. For example, Sutter's winning physicians had an average reputation score of 854 and a high of 882, this year. Among Sutter's winning care centers, the average reputation score was 840 and the high was 885.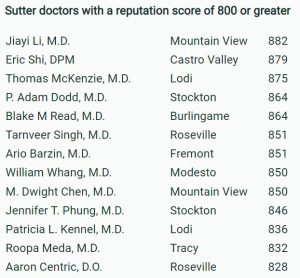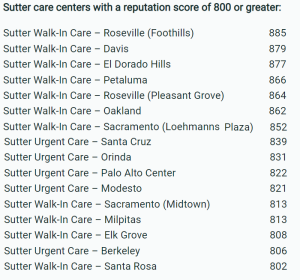 For its 2023 awards, Reputation analyzed more than 1 million patient reviews across 200,000 physicians and hospitals. Reviews were taken from social media, search results, business listings and more across a number of sources, including Google and Facebook. Reputation also surveyed consumers about how they searched for and choose a doctor. Unsurprisingly, ratings and reviews greatly influenced healthcare decisions. Nearly 86% of consumers said they read online patient reviews. Furthermore 73% said they view four stars as the minimum rating they would need to see to engage with a new physician.
Measured on a scale of 100 to 1,000, Reputation's proprietary Reputation Score is a comprehensive index of online visibility, engagement, and customer sentiment. Each score includes multiple factors; including review sentiment, business listing accuracy, search impressions, social engagement and other indicators that reflect consumers' experiences, opinions and perceptions.
For more information, visit reputation.com.