Sutter's 3+ million U.S. patients will receive 24/7 access to Ada's AI-powered personalized symptom assessment platform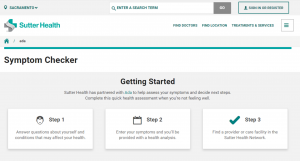 SAN FRANCISCO, Calif. — Sutter Health, a leading U.S.-based not-for-profit healthcare network, is teaming up with Ada Health to offer personalized, on-demand health guidance to help patients make informed decisions about next steps for care. As part of the collaboration, Ada's AI-powered symptom assessment and care navigation platform will be integrated into Sutter Health's website and My Health Online patient portal, giving more than 3 million current Sutter patients, as well as new website visitors, a personalized care experience.
Sutter patients will be able to complete an Ada health assessment directly from the Sutter Health site, by answering a series of personalized questions regarding medical history and current symptoms. Ada's platform will then present users with an assessment of what the proprietary technology identifies as the most likely symptom causes and appropriate care options, from self-care, to attending a walk-in clinic or – for more urgent cases – seeking emergency care.
The program is the latest in Sutter Health's larger digital health initiative to collaborate with innovative technology companies to extend its reach beyond traditional healthcare delivery. Technology is connecting patients with providers more rapidly and efficiently than ever before, but keeping a human-centered experience is at the heart of Sutter's initiatives. Healthcare is finally entering the on-demand economy, in which every patient will have access to immediate, personalized care and feel empowered to manage their own care.
One of the key benefits of Ada's technology is that it supports patients at the first onset of symptoms. This first step of the healthcare journey, in which a patient is directed to appropriate care, is often the most critical, and can determine the entire course of a patient's experience. By accessing an earlier, holistic health assessment, patients can make informed decisions, helping them to save time and avoid unnecessary costs. Every patient has unique healthcare needs and preferences, making this personalization ever more critical. By using Ada's technology to direct patients to the most appropriate care, Sutter Health aims to help patients get the right care, in the right place, at the right time.
"Sutter Health is constantly seeking creative and effective ways to meet patients where they are for their care needs throughout our integrated network of care, and this is one of many new innovations to improve the patient experience," said Albert Chan, M.D., who leads Sutter Health's Digital Patient Experience team. "Ada Health's platform takes care of the symptom intake tasks, which allows clinicians to devote more time to patient care, and also empowers our patients to better manage their own healthcare."
Sutter Health's integrated network plays a valuable role in providing communities with more efficient care and in helping lower healthcare costs, and Ada's innovation in digital health supports this work. The collaboration will help Sutter Health assess how this technology can be best implemented to bring value to its patients and providers, supporting access to a more efficient, affordable and personalized care experience.
"Every step of the health journey is becoming more personalized and digitized, with a greater emphasis on empowering the individual to play an active role in their health," said Daniel Nathrath, CEO and co-founder of Ada Health. "But there are still immense barriers to healthcare access and growing complexities. Now more than ever, we need to work together to improve outcomes and costs for patients, providers, and payers, and to unlock new possibilities. We're thrilled to collaborate with Sutter Health on this exciting project to place patients at the center of the care paradigm, and to make healthcare more immediately accessible for all."
This news follows Ada's recent launch of its Global Health Initiative, a drive to partner with governments, NGOs and health organizations to address global healthcare inequity and deliver health access to care and guidance at scale, by combining artificial intelligence, human medical expertise and the power of mobile technology.