Sutter Medical Center, Sacramento has been designated an Advanced Comprehensive Stroke Center after earning The Joint Commission's Gold Seal of Approval® and the American Stroke Association's Heart-Check mark for Comprehensive Stroke Certification. Sutter Medical Center is the first hospital at Sutter to receive this accreditation.
"This is an exemplary milestone for our Sutter stroke program and the highest certification for stroke care that took years of teamwork and multidisciplinary efforts to accomplish," says Manoj Mittal, M.D., medical director of Stroke & Neurocritical Care for Sutter Medical Center and Sutter Health Valley Area. "We are proud to offer Sutter patients access to our stroke center for leading-edge, evidence-based care and advanced diagnostic testing capabilities."
Stroke is one the most common medical emergencies and the leading cause of long-term disability in the United States. To care for stroke patients, there are critical elements necessary in a stroke program that help provide the best outcomes. There are four advanced stroke certifications designed for hospitals: Comprehensive Stroke Centers, Thrombectomy-Capable Stroke Centers, Primary Stroke Centers and Acute Stroke Ready Hospitals.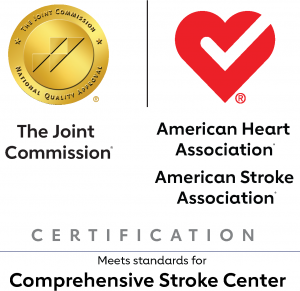 Comprehensive Stroke Center status is the highest level of stroke certification and recognizes hospitals that are able to treat the most complex stroke cases.
To receive an Advanced Comprehensive Stroke Center designation, Sutter Medical Center surpassed Joint Commission standards around continuous quality improvement in patient safety and quality of stroke and neurovascular care.
"Our team at Sutter Medical Center demonstrated consistently high-quality outcomes for stroke patients, especially those with subarachnoid hemorrhage (a rare stroke type), to the Joint Commission. This played a major role in achieving advanced certification," says Dr. Mittal. He cites a number of new stroke quality improvement initiatives launched over the last three years that included improvements in safety, quality, patient satisfaction and patient outcomes. An outpatient stroke clinic also was started to ensure adequate follow-up for stroke patients.
Acute stroke education was expanded to all Sutter Medical Center clinical staff and doubled for nurses involved in acute stroke care. Nurses, advanced nurse practitioners and physicians were trained in emergency neurological life support.
On the leading edge of new technologies and research, Sutter Medical Center introduced new approaches to brain perfusion imaging — called RAPID AI — to improve outcomes for ischemic stroke patients. Sutter Medical Center participates in several stroke clinical trials and is part of StrokeNet, a National Institutes of Health (NIH) research network of more than 500 hospitals.
"We congratulate Sutter Medical Center, Sacramento for this outstanding achievement in implementing processes and personnel that result in higher stroke outcomes," says Nancy Brown, chief executive officer at the American Stroke Association. "This certification reflects its commitment to providing the highest quality of care for stroke patients."
Putting Patients First
As an Advanced Comprehensive Stroke Center, Sutter Medical Center, Sacramento is able to offer patients expertise and services not provided at typical hospitals. This means access to advanced diagnostic testing capabilities and specialized equipment to treat ischemic and hemorrhagic stroke.
Sutter Medical Center has a multidisciplinary team poised to care for patients 24-7, which enables the hospital to manage multiple complex stroke patients. After treatment, Sutter Health network Stroke Centers refer patients to the advanced stroke rehabilitation centers throughout Northern California, including Sutter Rehabilitation Institute on the Sutter Roseville Medical Center campus.
The Sutter Health Stroke Network
Sutter Health has one of the largest hospital networks with advanced stroke certification distinctions in Northern California. Our Stroke Centers are certified by The Joint Commission as being able to provide high standards of care to improve outcomes of people who've had a stroke. These centers have special experience in caring for people with stroke and can provide treatment quickly to reduce the chance of paralysis and impairments. Certified stroke centers partner closely with local Emergency Medical Response services to coordinate timely care.