By Clayton Warren, Vitals Contributor
Sutter's California Pacific Medical Center has been recognized as an Age-Friendly Health System, part of a nationwide movement to improve health care for older adults.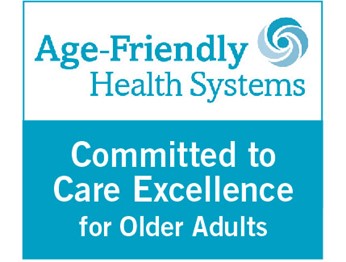 The certification recognizes CPMC as a leader in a rapidly growing movement committed to the care of older adults guided by an essential set of age-friendly, evidence-based practices and is consistent with what matters to the older adult patient and their family. CPMC is the first hospital in Sutter Health's integrated network or care to receive this designation.
"This recognition represents hundreds of hours of hard work by our team members who have made CPMC a premiere destination for elder care in the San Francisco Bay Area," says Anu Kirupananthan, adult gerontology acute care nurse practitioner. Kirupananthan also heads CPMC's Hospital Elder Life Program. "We look forward to continuing to build our program so that generations of patients may benefit from the compassionate and excellent care CPMC has always been known for."
CPMC received the Age-Friendly Health System – Committed to Care certification, an initiative of The John A. Hartford Foundation and the Institute for Healthcare Improvement, in partnership with the American Hospital Association and the Catholic Health Association of the United States.
As part of the Age-Friendly Health Systems movement, CPMC is a leader in implementing age-friendly health care.
The four essential elements of an Age-Friendly Health System are known as the 4Ms:
What Matters: Know and align care with each older adult's specific health outcome goals and care preferences including, but not limited to, end-of-life care, and across settings of care.
Medication: If medication is necessary, use Age-Friendly medication that do not interfere with What Matters to the older adult, Mobility, or Mentation across settings of care.
Mentation: Prevent, identify, treat, and manage dementia, depression, and delirium across settings of care.
Mobility: Ensure that older adults move safely every day in order to maintain function and do What Matters.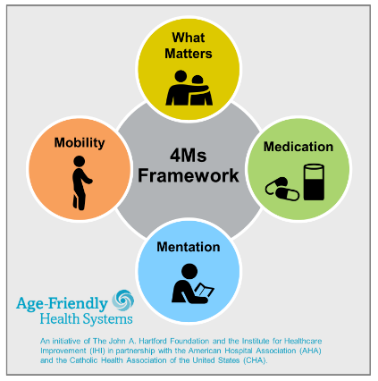 The 4M designation means that patients 65 and older are intentionally engaged in their healthcare to achieve better outcomes. During their visits, patients are asked what matters most to them about their health, both short- and long-term, along with questions about mobility, mentation and medication.
In order to focus on what matters to patients, floor nurses are encouraged to use patient white boards to write specific daily goals. Geriatric resource nurses are trained on bedside assessments for older adults, which help focus on high-risk geriatric syndromes to improve patient outcomes.
Using the 4M model, CPMC's team also developed patient education and talking points focused on specific needs such as medication side effects, mobility limitations and what was most important to the patient. "This designation lets our patients and community members know that older adults matter to us," adds Kirupananthan. "These age-friendly efforts change how nurses and patients talk with each other. The approach is also spreading to all members of the health care team in hopes of serving the fastest-growing population better."
The 4M excellence badge is especially relevant in San Francisco, as the aging population here continues to expand: It's estimated that nearly 1 in 3 people in San Francisco will be over age 60 by 2030.
CPMC Recognized as a Leader in Caring for Older Adults
In 2022, CPMC's Mission Bernal campus emergency department earned a level 2 accreditation from the American College of Emergency Physicians (ACEP) as a geriatric emergency department for elevating care of seniors in one or more specific areas.
In 2020, CPMC was awarded the AGC CoCare: HELP™ Center of Excellence designation for its expert implementation and proven success of its Hospital Elder Life Program, or HELP, program. CPMC received this elite Center of Excellence status based on demonstrating the highest level of best practices and was one of only five organizations in the world to receive this level of geriatric care recognition.
"CPMC has always been on the forefront of patient care, and that's why we are participating in this vital movement," said Kirupananthan. "We look forward to both sharing our best practices and learning what's working for others proving age-friendly care. The Age-Friendly Health Systems initiative is an important part of our overarching vision to provide every older adult with the best care possible."
Learn more about specialized care for older adults at CPMC's Acute Care for Elderly (ACE) Unit.