Back-to-school time can generate excitement for children. It can also bring on feelings of apprehension. Mental health experts emphasize these feelings are normal. They also suggest parents and guardians consider some of these helpful approaches as the family prepares for the new school year.
Routines are key. Summertime can be full of spontaneity, but more structured schedules can help get kids into the back-to-school groove. Establishing general times for meals, set bedtimes and dedicated time for homework can help kids start a rhythm that has positive effects. "Routines, especially for children and adolescents, help create feelings of safety," said Dr. Tam Nguyen, director of ambulatory care for the Mental Health and Addiction Care team at Sutter Health. "Schedules help manage expectations and generate consistency in young people's lives that can help them feel more grounded."
Take timeouts to talk. Dr. Nguyen suggests parents consider letting their kids know they are available to have conversations without judgement. "The first step to any conversation is showing you are willing," she said. "Listening also plays an important role in conversations since it puts you in a position to hear and validate a young person's feelings." Children and adolescents are naturally inquisitive, and letting their questions guide the conversation can lead to insightful exchanges. If your kids are quieter, just letting them know the door is open can help, too. Just be on the lookout for clues they are in the mood to share.
Familiarize yourselves to what's new. Is your child going to a new school? Do they have reservations about a new teacher? If possible, visit the school and walk around the campus. Talk to other parents or students who've worked with the teacher and ask for their objective feedback. Little steps like these can make a big impact. They can help build more familiarity for the students in their surroundings. They can also help kids work through managing their own expectations. "In turn, these actions help young ones develop a sense of calmness and security," added Dr. Nguyen.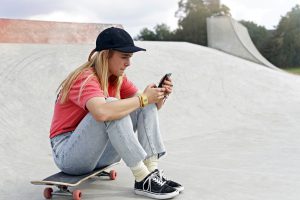 Combined, these measures can help children and adolescents feel more empowered, said Dr. Nguyen. Of course, the need for mental health check-ins will ebb and flow over time. Online tools supporting youth mental health and resilience building can offer additional safe spaces to work through ongoing needs. One example is the Scout by Sutter Health® tool for youth ages 12-26. Once signed up, the Scout team will reach out to the participant via text to start the 12-week online program. Based on individual responses, participants receive personalized web and mobile-friendly content to support their unique needs. Focus areas include body, mind and spirit for all participants. The most unique element of Scout by Sutter Health™ is that it also offers content to parents and guardians, so they learn helpful ways to support the mental health needs of the young person in their life who is also on the Scout platform.
Dr. Nguyen suggested parents and caregivers watch out for other changes in young people's behavior at this time. Sustained disruption to eating or sleeping patterns or intense emotional reactions from children can signal other potential needs. Dr. Nguyen said guardians can choose to connect with a school-based or outside mental health professional for additional guidance.
Note: This content is not intended to be a substitute for professional medical advice, diagnosis or treatment. Always seek the advice of your physician or other qualified health provider with any questions you may have regarding a medical condition. Never disregard professional medical advice or delay in seeking it because of something you have read on this website.