By Melissa Fuson, Vitals contributor
For years, 54-year-old Maria Hernandez lived her life looking through a fogged-up window. Her terrible eyesight meant she couldn't read, couldn't drive a car and even had a hard time recognizing friends' and relatives' faces. She lived in fear of falling down and injuring herself, and often had to rely on family to help her do even simple things.
Hernandez desperately needed surgery on both eyes. But because she's uninsured, the out-of-pocket expense was just too high.
Thankfully, in 2019, a clinic for low-income patients referred Hernandez to the Sacramento Physicians' Initiative to Reach out, Innovate and Teach (SPIRIT). SPIRIT is a nonprofit organization that has paired Central Valley healthcare providers with low-income, uninsured patients in need of surgical and specialty care for more than 25 years.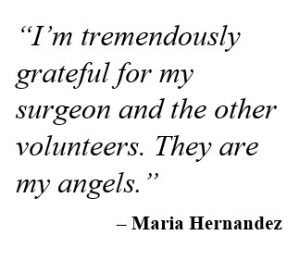 SPIRIT connected Hernandez with Dr. Richard Jones, an ophthalmologist who practices out of Capitol City Surgery Center, a Sutter Health affiliated ambulatory surgery center.
"Many hard-working people in our community simply can't afford necessary surgeries," Dr. Jones says. "I'm happy to donate time for patients in need."
Dr. Jones diagnosed Hernandez with cataracts in both eyes. Cataracts is a condition that causes the normally clear lens over the eye to cloud up. Age is the No. 1 risk factor for cataracts, though it can affect anyone.
Hernandez had surgery on her right eye last fall and on her left eye in May. Today, her eyesight has improved dramatically. She no longer has to rely on her family for help doing everyday things and feels so much more self-sufficient.
"This is the best thing that has happened to me," Hernandez shares. "I'm tremendously grateful for my surgeon and the other volunteers. They are my angels."
June is Cataracts Awareness Month. Talk to your primary care doctor or ophthalmologist about the signs, symptoms and treatment of the disease.